Leadership and the Military Situation in Ukraine: Pushing Toward Odessa and Kiev
One question is whether the Russians will succeed in doing at Kiev what the Luftwaffe failed to do during the London Blitz and the Serbs failed to do during the siege of Sarajevo.
Drang nach Odessa
The western Russian armored thrust from Crimea has stalled on the outskirts of Mykolaiv, a city of a half-million inhabitants on the eastern bank of the Southern Buh (Bug) River. Mykolaiv is a must-have objective for the Russian army in its push to capture Odessa, Ukraine's largest seaport. The fall of Odessa would sever Ukraine's last remaining maritime supply route.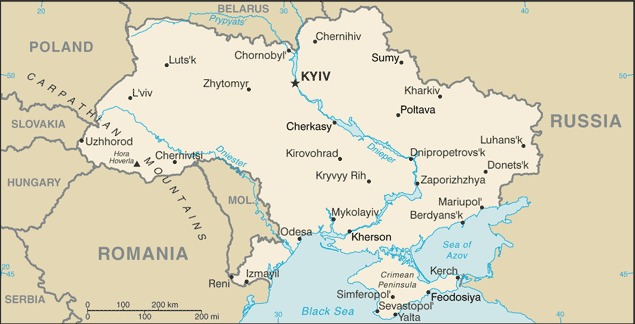 Ukrainian news sources relate that a seesaw battle has been raging around Kulbakino Airport on Mykolaiv's southern approaches. Ukrainian forces also remain in firm control of the Varvarivs'kyy Bridge, a 750-meter-long cantilever drawbridge that constitutes the only span over the Southern Buh for 50 miles. The Russians must capture the Varvarivs'kyy intact to keep their forces supplied during the advance on Odessa.
Reporting from Kiev for Ynet News, an Israeli military analyst, Ron Ben Yishai, describes how the Ukrainians have been destroying bridges to impede a Russian advance on the city. It is unknown at this time whether the Varvarivs'kyy Bridge has been rigged for demolition. But from a military perspective, it would make sense for the Ukrainians to do so in case they can't hold Mykolaiv against the Russians. 
Kiev Braces
Mr. Ben Yishai also tells of intense preparations by Kiev's population to defend their city against a major Russian ground assault expected next week. "They're filling sandbags and placing 'Czech hedgehogs,'" which are anti-tank obstacles made of iron beams welded together. 
According to Mr. Ben Yishai, the Russian assault would be preceded by an artillery barrage intended to sap the Ukrainian defenders' will to fight. This would be consistent with Russian military doctrine that places a greater emphasis on artillery support than do most Western armies. 
It remains open to question whether the Russians will succeed in doing at Kiev what the Luftwaffe failed to do during the London Blitz and the Serbs failed to do during the siege of Sarajevo. The annals of military history are replete with examples where indiscriminate bombardments against civilian targets only stiffen the spines of the defending populations. 
Doubling Down
That President Putin is contemplating such a scorched-earth strategy signifies his growing frustration at Russian military mediocrity. In an era in which everyone with a smartphone is a potential documentary videographer, the inevitable footage of Russian sledgehammer brutality would likely only heighten international outrage. 
That in turn would almost certainly lead to more severe global economic sanctions that would further erode support for Mr. Putin within his only real political support base — the plutocrats of Russia's oligarchic elite. 
Last week Nikkei's Financial Times Moscow bureau chief, Max Seddon, opined how Russia's oligarchs were "powerless to oppose Putin." I fail to share Mr. Seddon's confidence in Mr. Putin's longevity, both political and literal. 
Mr. Putin is in a vise of his own making. He must crash through in Ukraine or else crash and burn in Russia. Yet the more brutal he is, the more politically isolated he becomes where it counts most. This is not a recipe for a long lease on life.  
Bennett's Surprise
On Prime Minister Bennett's surprise visit to Moscow, a few words on Israeli politics are in order. Mr. Bennett is the leader of the Yamina party, whose name translates into English as "rightwards." He ran on an election platform promising a government that would be "ten degrees rightwards of Likud."
When Mr. Bennett managed to get into the Knesset with a mere six seats to his party's name, he cut a coalition deal that included far-left parties with avowed anti-Zionists in their ranks. 
This act has made Mr. Bennett a reviled figure among conservative Israeli voters. He's also seen as a lightweight by his coalition partners whose parties boast more Knesset seats than Mr. Bennett's Yamina. 
Foreign Minister Yair Lapid, with 17 seats, and Defense Minister Benny Gantz, eight  seats, feel at liberty to engage in freelance policy making without bothering to coordinate with Mr. Bennett, much less seek his prime ministerial permission.
A political system that enables a party holding 5 percent of the parliament's seats to anoint the nation's prime minister is the stuff of another column. Mr. Bennett's lightning trip to Moscow can be seen, though, as an effort to make  his mark on history before Israeli voters assert themselves. 
If Mr. Bennett's coalition partners don't take him seriously, it's hard to imagine Vladimir Putin viewing Israel's prime minister without illusions. 
Israel would be far better served if Mr. Bennett took a page out of the Netanyahu playbook and focused on stopping the Biden administration from negotiating a second Iran nuclear agreement that promises to be even worse than the first deal done by President Obama.