Senator Cruz Tells the Sun President Biden's 'Weakness' To Blame for 'Unnecessary Tragedy' of Ukraine War
The senator calls the president 'feckless and ineffective' and a practitioner of 'appeasement.'
Senator Cruz, in a wide-ranging interview with The New York Sun, called the war in Ukraine "unnecessary" and said "it didn't have to happen." He blamed President Biden's "incredible weakness and appeasement" for a rising tide of global disorder that stretches from Kabul to Kharkiv and, potentially, Taiwan.
Texas's junior senator, who ran for president in 2016 and is seeking re-election next year, sources Russia's mauling of Ukraine to the "disastrous withdrawal from Afghanistan." He theorizes that America's enemies gleaned from our collapse in Afghanistan that the "commander in chief is weak and feckless and ineffective." When they look to Washington, the senator suggests, they see a green light for their rapacious territorial ambitions.
For Mr. Cruz, President Putin's dream of rebuilding the Soviet Union came into focus with the "incompetently executed" pullout from America's longest war. The lawmaker points to "giving up the Bagram airfield, the secure airfield, before the evacuation" as a strategic blunder that precipitated a moral one, the abandonment of Afghan allies and the murder of 13 Americans via suicide bomb.
While Mr. Cruz allowed that Mr. Putin "has long wanted to invade Ukraine," he fingers "President Biden's weakness," and ensuing defeatism, as its proximate cause. The senator characterizes the administration's "classified briefings" as giving the impression that the war would be "over within a week" and that Mr. Putin would "sweep into" Kyiv and "run over the country." More than a year later, Ukraine still stands.
Mr. Cruz gave the Sun a more granular account of the war's gestation, pointing out that Mr. Putin was content with capturing only Crimea in 2014 because Russia's natural gas pipelines run through Ukraine to Europe, and he couldn't risk those being sliced off. The next year, the Texan relates, Russia began building Nord Stream 2, circumventing Ukraine.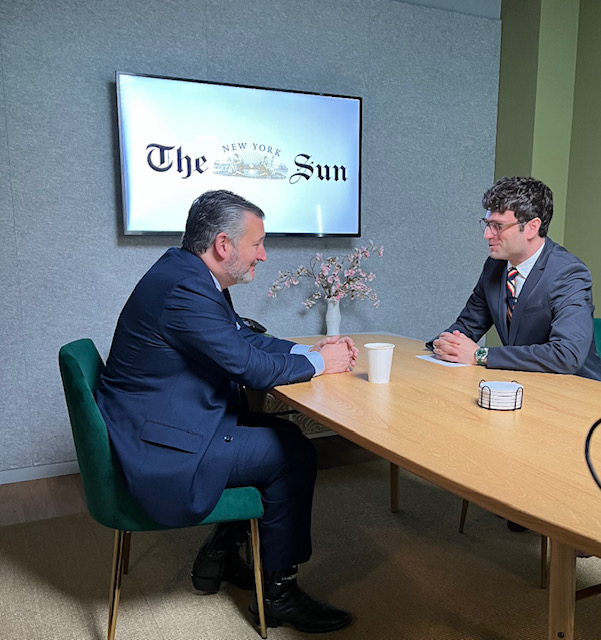 Mr. Cruz relates how he spearheaded sanctions in 2019, signed into law by President Trump, which he attests stopped Nord Stream 2's construction in its tracks and froze Mr. Putin's dreams of rebuilding the Rusky Mir with tanks and drones.
Construction on the pipeline, though, began after Mr. Biden was inaugurated and reversed policy, easing sanctions on Moscow. Mr. Cruz blocked scores of Mr. Biden's nominees in an effort to force a course change, which eventually came, but only after Russia invaded Ukraine. In 2022, a mysterious explosion rocked this pipeline. The culprit is yet to be exposed.
Another way is possible, the senator tells the Sun. He summons the memory of Ronald Reagan to paint a contrast with the current commander in chief. He notes that the biggest country the Gipper ever invaded was Grenada, and that he "won the Cold War without firing a shot," informed by the conviction that "weakness is provocative. And that if we are strong enough, our enemies will not be able to stand up to us."
These comments on Ukraine were part of an interview within which he also called for narrowing the mandate of the Federal Reserve to price stability and reiterated a view he expressed in 2015 that the ideal solution to solve our monetary crisis would be to stabilize the dollar, "ideally linked to gold."