Can the Metropolitan Museum of Art Compete With Your Smart Television?
A new partnership between the Fifth Avenue mainstay and Samsung digitizes da Vinci and Degas.
Where should art live? The Renaissance popes wanted it for their churches and cathedrals, and the great collectors hope to hang it in their drawing rooms. Museums, with their armies of curators and battalions of benefactors, argue that they should steward beauty. Then there are the gallerists, the downtown and midtown consiglieres. The auctioneer's hammer will be heard from, too. Now comes Samsung to tell you that the real answer is — your television. 
Samsung Electronics, the South Korean electronics behemoth, is now collaborating with the Metropolitan Museum of Art to import — download could be the more accurate word — 38 pieces into the Samsung Art Store. This boutique boasts more than 2,300 pieces of "digital art," which can be downloaded by owners of "The Frame," a smart television whose 55-inch incarnation retails for $1,499.99. The company promises that the result will "transform any space."
Samsung explains that "The Frame" is a "4K Smart TV with a billion shades of color and a picture frame bezel that delivers vivid, lifelike television when it's on and art when it's off." Its "matte display drastically reduces light reflections for a canvas-like finish." Old Masters are getting digital facelifts courtesy of Big Tech. Unlike fusty old frames, an "auto-rotating wall mount" — it costs extra — can "display content vertically or horizontally."
This correspondent does not have a "Frame," but he did take a look at one at the Met, stationed at the entrance to the museum store. There, the Met's head of global licensing and partnerships, Josh Romm, promises a "new dialogue about art, creativity, and technology." Behind him was "Concise Illustrated Biography of Monk Nichiren: Calming the Stormy Sea at Tsunoda in Exile to Sado Island." It looked authentic, but it was on a screen.
Downloadable from the Met's collection are everything from an Egyptian wedjat eye amulet to Edgar Degas's "The Rehearsal of the Ballet Onstage" and Vincent Van Gogh's "Sunflowers." If textiles are your tune, you can beam in "The Unicorn Rests in a Garden," of French and South Netherlandish origin. Somehow, the pixels double as thread counts. The matte means that without the telltale digital glare, The Frame feints to the analog.
In addition to relationships with "featured partners" like the Met and the Louvre, the Art Store offers Frame owners "professionally curated, meticulously organized collections to find your inspiration." These include "Books Depicted in Art," and "First Day of Summer." The store has its own curator, Daria Greene. She spoke to the Sun of Samsung's commitment to contemporary as well as canonical art.
What is lost if, say, "Washington Crossing the Delaware" sails to your living room instead of you schlepping to the Met to meet it, in all its gargantuan splendor? Nine decades ago a philosopher of an idiosyncratic Marxist bent, Walter Benjamin, considered that very question. In "Work of Art in an Age of Mechanical Reproduction," he tackled the conundrum of how photography — the smart television, say, of its day — affected how we think about originals.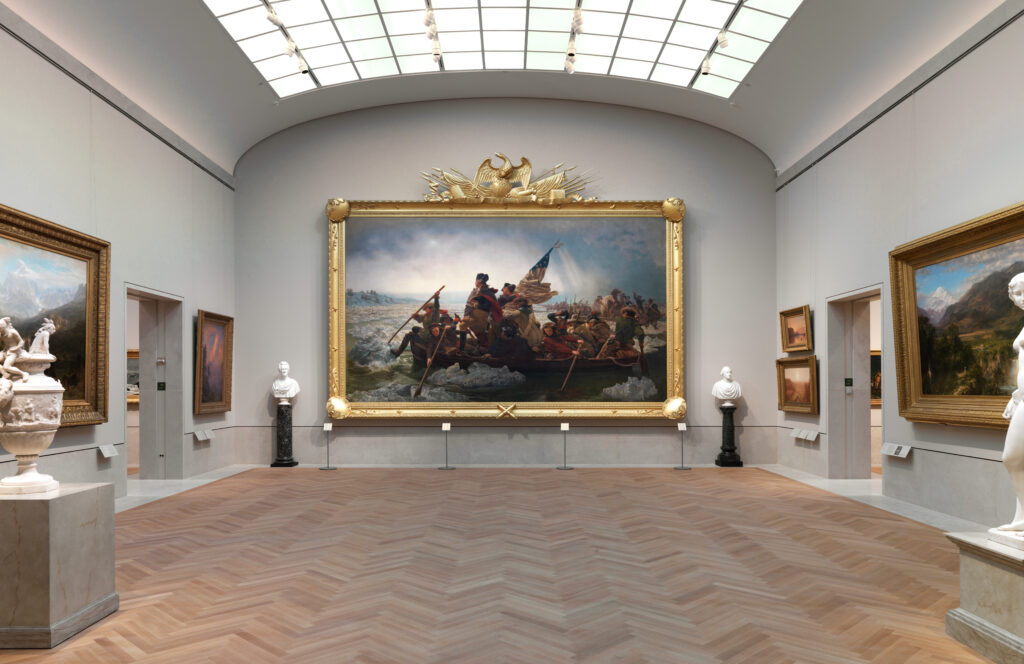 Benjamin writes that the "presence of the original is the prerequisite to the concept of authenticity," or what he calls its "aura," which "withers in the age of mechanical reproduction." When an image is reproduced, whether by Google or Apple or Samsung, "a plurality of copies" is substituted for "a unique existence." This leads to a "tremendous shattering of tradition." Benjamin was ambivalent about this — he liked the movies, still then nascent.
One hopes that the Art Store helps Samsung's customers discover all that is in store for them at the Met. Feature, say, "Fur Traders Descending the Missouri," by George Caleb Bingham, from 1845. It is a depiction of a quiet moment in the stream of commerce, the mighty Missouri as still as glass. You can activate "Art Mode" on your television, and access its frontier luminosity at home. And just maybe on your next trek, you'll pack some paints.