Drugmakers Say Biden Administration Price Caps — Framed as 'Negotiations' — Violate the Constitution
Eight drug companies and trade groups are suing as an October 1 deadline to comply or face a 95 percent penalty tax approaches.
Extortion, compulsion, "a sham": These are the charges showing up in federal court filings around the country as the Biden administration begins implementing price controls on some of America's most widely used drugs. 
Pharmaceutical companies that were affected by the initial 10-drug list, including Bristol Myers Squibb, Janssen, and Merck, argue the controls, described by the government as "negotiations," violate free speech and private property rights under the U.S. Constitution. 
Medicare was given the authority to "negotiate" drug prices with pharmaceutical companies under what is called the Drug Price Negotiation Program, enacted as part of President Biden's Inflation Reduction Act. 
In government-speak, that means drug companies have until October 1 to agree to the price ceilings set by the federal administrators of the Medicare program. Otherwise, the companies must withdraw their drugs from the Medicare and Medicaid markets or pay daily excise taxes of up to 95 percent of the drug's U.S. sales — a prohibitive fee.
Merck, which in June was the first to file a suit against the Biden administration, calls for the program to be halted, arguing the price controls violate the First Amendment by operating "through a facade of 'negotiations' and 'agreements' that require manufacturers to convey that they 'agree' to HHS's 'fair' prices." 
Merck on July 11 asked a federal district judge at Washington, D.C., to decide the case without trial, claiming there was no dispute over the facts of the case. The federal government has until Monday to respond.  
Merck is also arguing that forcing it to provide its patented drugs to Medicare beneficiaries with "government-dictated payments" is a violation of the Fifth Amendment's takings clause, which requires "just compensation" for the taking of private property for public use.
The outcomes of the Merck lawsuit and the suits by other drugmakers will have far-reaching consequences in determining the federal government's regulatory scope in healthcare. Pharmaceutical companies warn it could also reduce profits — and thus incentive — for continued research and development in drug innovation. 
"It is almost impossible to overstate how important the outcome will be for the future of Medicare's ability to regulate drug prices," an American Enterprise Institute senior fellow, Benedic Ippolito, told Bloomberg Law. 
"The possible outcomes," Mr. Ippolito adds, "could range from Medicare retaining the ability to set prices with little recourse for drug makers, to Medicare having nearly no leverage to affect prices."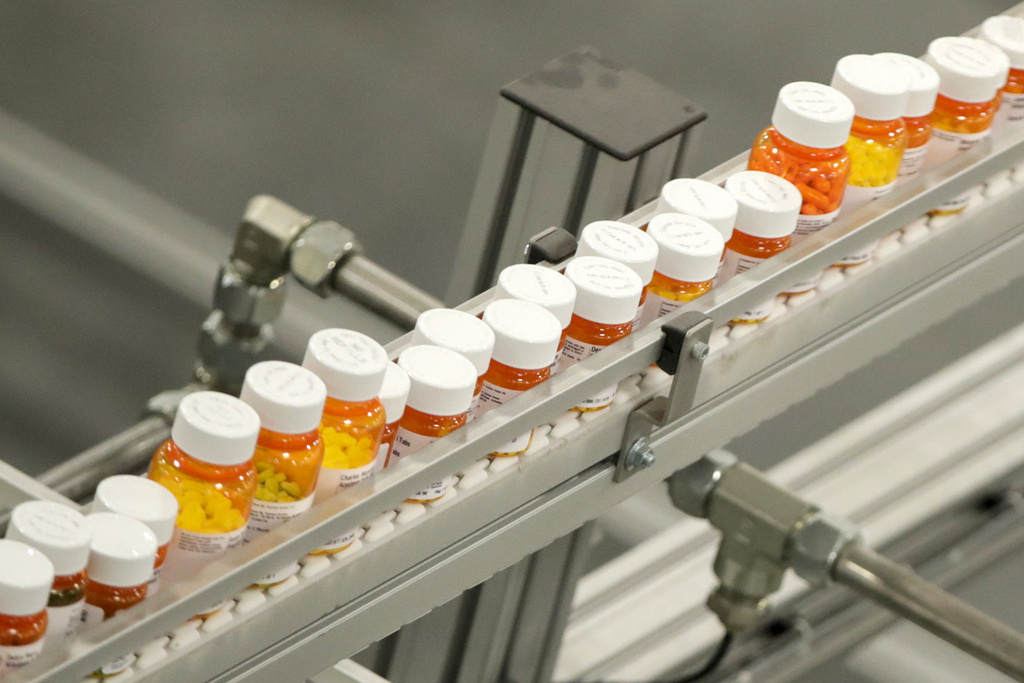 Other lawsuits are pending in federal courts in Texas, Illinois, Ohio, Connecticut, New Jersey, and Delaware. 
The pharmaceutical companies argue because Medicare and Medicaid cover tens of millions of Americans, it's not a choice to opt out. 
Not everyone agrees. "Both Merck and the government are wrong to describe those 'excise taxes' as taxes," a Cato Institute health scholar, Michael Cannon, wrote. 
Instead, Mr. Cannon contends, the price limits should be seen as "an across‐the‐board reduction in the prices Medicare and Medicaid pay for Merck's products." He adds, "No one is taxing Merck," or other drug companies, but "just reducing their government subsidies."
America's hospitals have, since the creation of government insurance programs in the 1960s, faced a similar conundrum to that faced by drugmakers today. 
Medicare and Medicaid payment rates are set by law at rates less than the cost of care, according to the American Hospital Association. And while hospital participation in Medicare and Medicaid is "voluntary," these programs "account for more than 60 percent of all care provided by hospitals," the association says. 
As a result, "very few hospitals can elect not to participate in Medicare and Medicaid," the association says. The  underpayment — the extra hospital costs to hospitals not covered by Medicare and Medicaid — was a combined $100.4 billion in 2020. 
That year, Medicare only paid for 84 cents per dollar that hospitals spent on care, and Medicaid only paid 88 cents per dollar. These costs can end up getting passed on to patients with private insurance, or the uninsured — one of the drivers of America's inflated healthcare costs.
Price controls on drugs aren't a new issue either. In 2021, a University of Chicago study found "adverse health effects" as a result of price controls, estimating that the "loss in life" from government caps on drug costs over "the next 10 years is 20 times larger than the loss from Covid-19 to date in the U.S."
With up to 60 drugs allowed to be "negotiated" by the government in 2029, the underpayment problem plaguing hospitals could in turn affect the drug industry. 
In that event, critics ask, who would bear the brunt of the costs of developing new, potentially life-saving drugs? It could be that those who carry private health care insurance will end up subsidizing these negotiated Medicare prices. 
Evidence suggests future patients could lose out the most. Drug pricing controls could lead to up to 342 fewer new drug approvals, a University of Chicago study found, as policymakers make it unprofitable for pharmaceutical companies to innovate.
Republicans on the House Ways and Means Committee, pointing to that report, argue that price limits on drugs "would kill new treatments" and say that if such caps "had been enacted during the last decade, only six of 110 currently approved therapies would have made it to patients."
The "loss of innovation," in the House GOP's appraisal, would mean "a death sentence for patients."
Mr. Biden's health and human services secretary, Xavier Becerra, for his part credited the Inflation Reduction Act for making drugs affordable — for now. 
"Although drug companies are attempting to block Medicare from being able to negotiate for better drug prices," Mr. Becerra added, "we will not be deterred."