Fake Images Created by Artificial Intelligence Beginning To Proliferate Online
An image of Pope Francis repping a white Balenciaga puffer coat lit the internet on fire. The photo, though, was a fake.
Images generated by artificial intelligence of public figures such as Pope Francis and President Trump have taken the internet by storm in recent days, and the results make clear that passing off such creations as genuine photos is no longer the stuff of science fiction or hyperbole.
Over the weekend, an image of his holiness repping a white Balenciaga puffer coat lit the internet on fire, with Twitter users quipping over the name of a papal lifestyle brand and sharing other famous images of his holiness.
The photo, though, was a fake. It was generated by the latest version of the AI Midjourney, which can now be used by anyone to generate photorealistic images.
Some users have replicated the viral image, or created similar images, with their own prompts, often ordering the AI to recreate images in the style of an Associated Press photo or dictating the sort of camera settings for the AI to replicate.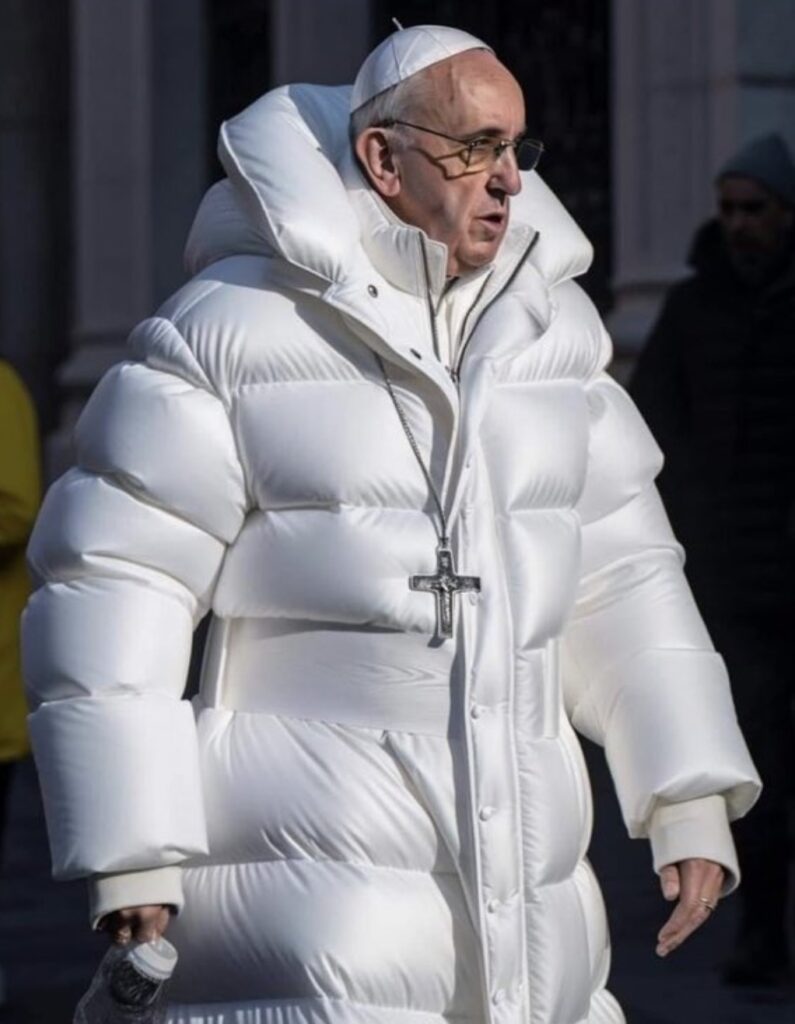 Last week, with the country awaiting a potential presidential indictment, there was an eruption of AI-generated images of Mr. Trump being arrested and wrestled to the ground by New York City police officers. While all of these images were known to be fake from the outset, social media facilitated their rapid sharing, not always including the context that they were fakes.
The creator of some of these artificially generated images, the founder of the outlet Bellingcat, Eliot Higgins, was later locked out of the Midjourney server where the images are generated.
"The Trump arrest image was really just casually showing both how good and bad Midjourney was at rendering real scenes," Mr. Higgins told the Associated Press. "The images started to form a sort of narrative as I plugged in prompts to Midjourney, so I strung them along into a narrative, and decided to finish off the story."
The rise of AI has made it possible for anyone with access to the technology to create convincing fakes of what would be newsworthy events.
One of these instances came early last month, when videos from an outlet called Wolf News that featured AI-generated anchors, voices, captions, and images were circulated online.
The fictitious anchors were delivering pro-China messaging that was spread by pro-China bot accounts on various social media platforms. It was one of the first times that apparently fully AI-generated fake news was circulated widely.
A professor of information sciences at RMIT University, Lisa Given, addressing the issue in the Conversation, said she doesn't have a simple solution to the problem, but did offer a few strategies consumers can deploy to prevent confusion over the authenticity of a photo or a piece of audio.
In the article, she recommended that people cross-reference suspicious material with independent sources and look for imperfections in images as a sign that they might be AI-generated.
"Where spelling errors once alerted us to email scams, or extra fingers flagged AI-generated images, system enhancements make it harder to tell fact from fiction," Ms. Given wrote. "Creating fake photos and deep-fake videos no longer requires specialist skills and equipment."