Frick Flourishes With a Large Gift of Small Works
Reflecting the tastes of the donors, Elizabeth 'Betty' and Jean-Marie Eveillard, almost all the works are figure drawings and portraits.
The drawings and pastels in "The Eveillard Gift" fill a single, intimate gallery at the Frick Madison, the museum's temporary home while its Fifth Avenue edifice undergoes renovation. For the Frick, the small exhibition tokens a big development: the largest promised gift of drawings to its collection since it opened to the public in 1935. 
Spanning four centuries, the 26 works include drawings by such masters as Guido Reni, Watteau, Boucher, Fragonard, Degas and Sargent — a selection neatly complementing the Frick's strong holdings in northern European and Italian painting. Reflecting the tastes of the donors, Elizabeth "Betty" and Jean-Marie Eveillard, almost all the works are figure drawings and portraits. (Both donors served on the Frick's board of trustees; Betty is currently its chairwoman.) Two small landscapes, by Constable and Millet, round out the impressive selection. 
First greeting the visitor's eye are drawings by Fragonard and Degas, each awarded its own free-standing wall. The young woman depicted in the Fragonard wears a long, elegant dress, as well as a slightly bored expression, earning the drawing's title ("La Coquette," circa 1770-73). The true charm of this work lies in the vigor of the artist's attack, ranging from loose charcoal marks for the background foliage, finer lines for the silken skirt, and the deftest, sparest strokes of all that capture not just facial features but also the slight turn of the head. Although not a direct study for any of the paintings in Fragonard's celebrated series "The Progress of Love" — occupying two galleries on the same floor at the Frick Madison — it dates to the same years.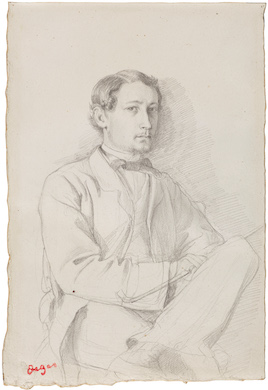 Degas's portrait of his cousin, produced in graphite and dated to circa 1867, when the artist was in his early 20s, shows the neo-classical influence of Ingres, a master he revered. (Degas's large personal collection was eventually to include 20 of Ingres's paintings and more than 80 of his drawings.) Like the older master's portraits, Degas's drawing features a fine, incisive modeling of the face, supported by secondary elements — jacket, trousers, shoes — rendered with a slightly lighter touch. All these build toward the sitter's face, which, with its vertically extended nose, bears an entertaining similarity to the artist's own. 
Centered prominently on the back wall, a pastel portrait (circa 1738) by Maurice-Quentin de La Tour dazzles for its virtuosity of technique and vibrant hues. Considered one of the artist's finest works, it captures every detail of its subject's pensive expression, and no less completely the soft sheen of her velvety, flaming-red jacket.
A similar eruption of color brightens another wall, where a jewel-like Delacroix pastel of a North African couple (circa 1853) nestles between a robust Constable oil landscape sketch (circa 1824-25) and the quiet glimmer of Millet's watercolor landscape (1867). 
The most recent drawing in the exhibition represents the Eveillards' very first acquisition. This is a sketch (circa 1884) by Sargent for his renowned painting "Madame X," in the Metropolitan Museum's collection. Sargent seems to have been infatuated with his subject, describing in his correspondence her "unpaintable beauty and hopeless laziness." He was in fact to produce more preparatory studies for her portrait than for any other.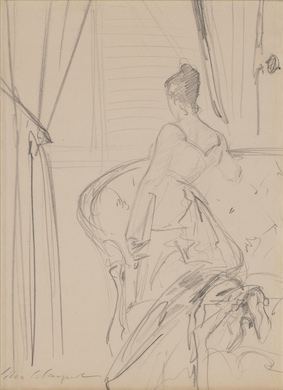 While Sargent was known for his virtuosic touch, this pencil sketch is surprisingly no-nonsense in its investigation of a compositional possibility. With efficient marks, he captures an unusual pose: his subject kneeling on a couch, facing away to reveal her crossed ankles. One can imagine the artist exploring an emotive encounter with light; the figure, restrained by the sweeping back of the sofa, faces the sunlight pouring between parted curtains. As it turned out, for the final painting Sargent found all the sensuous elegance he needed in a less dynamic pose. 
Elsewhere, a 1753 work on paper by Boucher employs a formidable number of mediums — chalk, pastel, and watercolor — to wrap a reclining shepherdess in a peaceable glow. Less seductive, but possibly more memorable, is Goya's tiny ink sketch (circa 1812-20) of a tambourine-wielding dancer. The bright sunlight of mid-day silhouettes the figure in harsh relief, emphasizing every slight undulation of his limbs as he balances, a little awkwardly, in mid-step. One feels his fragility, but also a certain resilience, amidst the unyielding forces of light and gravity.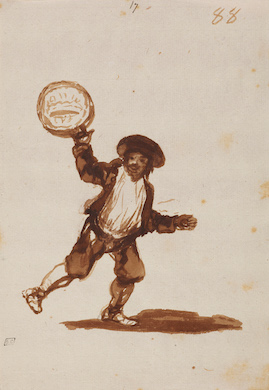 Drawings by Tiepolo, Prud'hon, Elizabeth Vigée Le Brun, and Jan Leviens (a contemporary of Rembrandt) grace other walls. The greatest highlight of all is a sheet of studies (circa 1716) by Watteau, executed in his favored trois-crayon medium of red, white, and black chalk. Here, his subject matter — which includes a head emerging from a ruff, a hand gripping a mask — may seem rather decorous. Indeed, the artist freely incorporated such studies into his celebrated fête galantes: the paintings of costumed couples in dreamy landscapes. 
However, Watteau's penetrating observations — of the way a face's features accentuate its tilt through space, of a distracted man's decidedly unglamorous expression — show that he had little use for mere escapism; this is real-life incident, captured in all its glorious strangeness.
In the next year or so, the Frick Collection will move back to its Fifth Avenue location, which will have been fitted out with new gallery spaces devoted to works such as these. It will be a treat to see them again.