Iran and North Korea Emerge as the Big Winners in a Week of High Stakes Diplomacy
In return for five American hostages, President Biden okays release of $6 billion, which will be used to help Iran in its terror war against Israel.
Iran and North Korea are the big winners in a week of high-stakes diplomacy, as the dictators at either end of the Pyongyang-Tehran axis are reveling in funds and gifts that should support both in the war against Ukraine, the terrorist campaign against Israel, and the twin nuclear standoff with Washington.
The country with the biggest one-day haul is Iran, which reaped a bonanza from a most unlikely source, South Korea. How did that happen? At the behest of Washington, South Korea is freeing a whopping $6 billion that was frozen due to sanctions. Iran agreed to free five American hostages. Iran can be expected to use the money for its terrorist war against Israel.
Word of the deal, a concession by the Biden administration in its bid to stop Iran from fabricating a nuclear warhead, came as North Korea's Kim Jong-un was thanking his Russian hosts for showering him with gifts at the end of his six-day odyssey through the Russian far east. As souvenirs of his visits to factories making fighter planes, warships, and missiles, Mr. Kim's armored train packed half a dozen drones.
Not to mention a bullet-proof vest presumably tailored to Falstaffian dimensions after the North Korean party boss. He visited warships in the Russian fleet at Artyom, northeast of Vladivostok. They're symbols of much more that Mr. Kim might get by way of fighter aircraft, warships, and satellite technology.
That is, Mr. Kim might get this lucre if he comes through with supplies of the missiles that Russia desperately needs for the war in Ukraine. That is apparently the main reason President Putin lavished such enticements more than four years after first meeting him briefly in Vladivostok.
The success of both Iran and North Korea in getting what they want comes at the expense of American concerns about their closely related nuclear and missile programs. They've been exchanging technology going back many years.
It was for that reason that President George W. Bush, in his 2002 state-of-the union speech, famously lumped them both in an "axis of evil." North Korea, of course, is now a nuclear power, having fabricated dozens of warheads and conducted six tests, while Iran is said to be getting close despite official denials.
The deal to free $6 billion in funds that are now in two South Korean banks goes back to sanctions imposed against Iran during the Obama administration and then lifted under the Joint Comprehensive Plan of Action by which it promised not to go nuclear.
The funds, which South Korea owed Iran for oil imports, were frozen again when President Trump, in 2018, canceled the deal, again imposing sanctions. For Iran, the waiver on sanctions on the South Korean accounts marks a controversial breakthrough in negotiating a significant portion of $100 billion in funds frozen in foreign accounts.
"Just as critics of the JCPOA view the release of billions of dollars of reserves as a threat, Iranian officials point to those large numbers as a boon," said the economist Esfandyar Batmanghelid, who founded the Bourse & Bazaar Foundation, a think tank focused on economic issues in the Middle East. "Iran cannot operate normally in the global economy without the ability to use its foreign exchange reserves and to make transfers between currencies."
Iran got the Americans to sign off on an exchange in which Iran is freeing five American citizens, all of whom also hold Iranian passports. The five, including two businessmen and a man described as an environmentalist, have been transferred from prison to house arrest awaiting flights from Qatar, where the exchange was brokered.
The deal also involves five Iranians in the embrace of the Americans, only two of whom want to go back to their mother country. Two of them prefer to stay in America, thank you, and one is going elsewhere. An Iranian spokesman portrayed the deal as a triumph for the Iranian president, Ebrahim Raisi.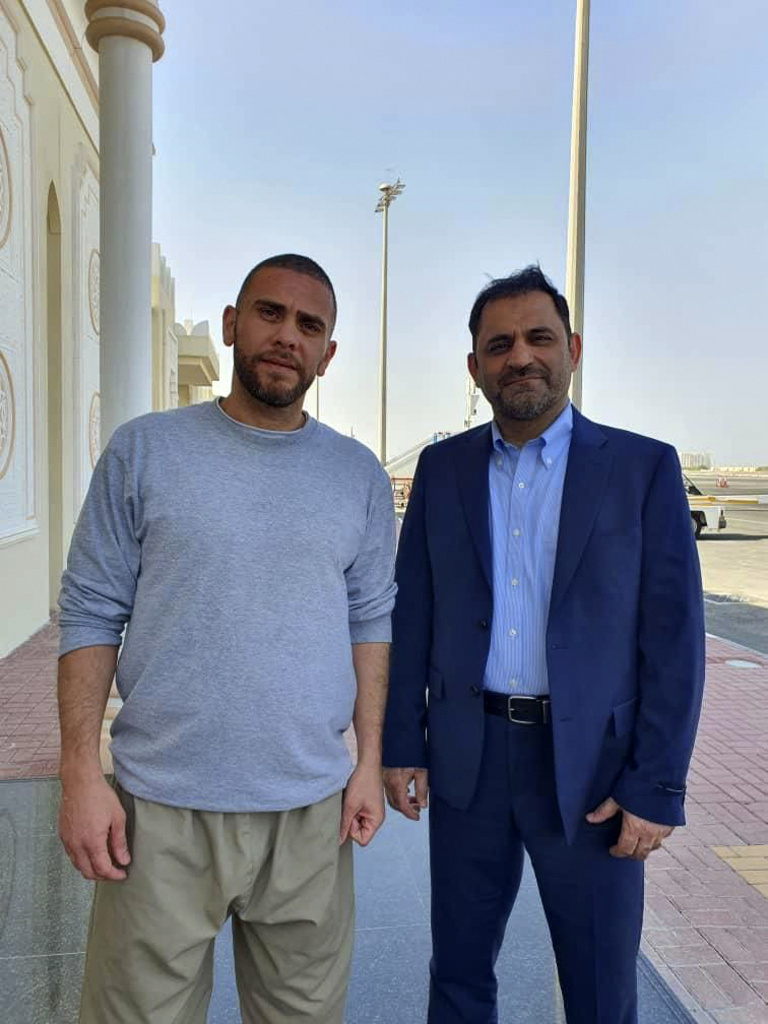 "As a result of the cruel actions of the United States and the pressure it had exerted on some of Iran's partners, some of our assets were blocked in South Korea,"  IRNA, the Islamic Republic News Agency, quoted him as saying. "Today these assets will be available to Iran in their entirety," 
Mr. Raisi said Iran was eager for talks on JCPOA "with any country that wants to cooperate with Iran with mutual respect." In Washington, Secretary Blinken said "we uphold the remaining nuclear sanctions due to the fact that the Iranian nuclear program is so advanced." He cited "severe and continuing" Iranian violations against the JCPOA but insisted Washington was always "open to diplomatic solution."
That response was eerily similar to American responses to Mr. Kim's wheeling and dealing with the Russians. Multiple officials have warned that North Korea and Russia "will pay the price" for trading vital materiel in violation of UN sanctions that Russia agreed on before invading Ukraine. 
As Mr. Kim's train neared the North Korean border, Pyongyang's Korean Central News Agency  praised his visit for "opening up a new chapter of the development of the bilateral relations."