Japan, a Sleeping Giant in Its Own Right, Starting To Stir
It vows to double the size of its security budget in the face of threats from Communist China and North Korea.
Awakening from seven slumbering decades, Japan, once an Asian military power, is flexing its muscles again and vowing to double the size of its security budget so it can better face threats from its Communist neighbors, Red China and North Korea.
The one-time empire, defeated in World War II, has been on a pacifist bent since it surrendered aboard United States Ship Missouri at the end of World War II. On Friday, though, Tokyo unveiled a five-year plan to add $320 billion to its military budget and match NATO's standard of spending two percent of its national output on defense.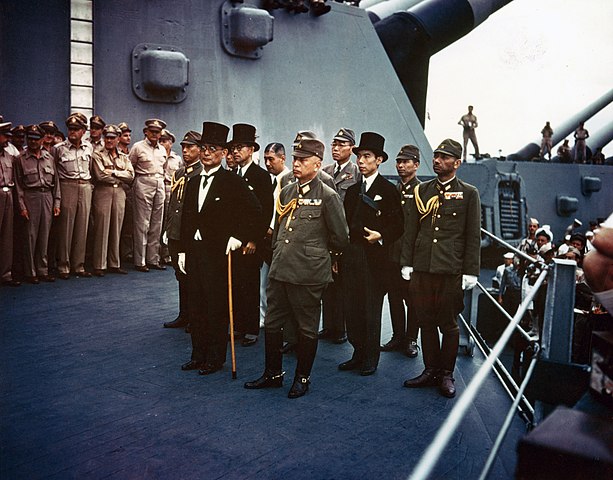 The new plan marks a major development in the geopolitical framework in Asia. It means that Japan would double defense expenditures from the current one percent of GDP and turn Japan into the world's third largest military spender, behind America and Communist China.
Prime Minister Kishida's Friday announcement was greeted with cheers in Washington, where alarms are growing about Beijing's aggression in the Pacific and beyond. America has long urged Japan to pitch in additional resources to help allies match Beijing's fast-paced military buildup.
Mr. Kishida is making a "clear, unambiguous strategic statement about Japan's role as a security provider in the Indo-Pacific," America's ambassador to Tokyo, Rahm Emanuel, said in a statement, adding that the prime minister "has put a capital D next to Japan's deterrence."
Japan's post-WWII aversion to war and militarism was enshrined in Article 9 of its postwar Constitution, ratified in 1947. With that article, dictated by General MacArthur, the new democratic state that arose from the ashes of Emperor Hirohito's disastrous aggression, shunned all offensive military powers.
While Article 9 provided for a small army for self defense, it strictly prohibited the use of ballistic missiles, nuclear arms, or other instruments to threaten other nations. It perfectly suited a country still traumatized by the horrors of a war that culminated in the first, and only instances so far, of detonating an atomic bomb in combat.
Prime Minister Shinzo Abe, early in his premiership, became alarmed by North Korea's nuclear buildup and continuous threats against Japan. He tried to amend Article 9 to be able to confront the new challenges. Realizing, however, that, politically, such a sea change in the country's ethos was nearly impossible, Abe instead slowly moved to blur the distinctions between offense and defense.
With a growing alarm that the Beijing ruler, Xi Jinping, could well follow President Putin's invasion of Ukraine with an attack on Free China, and as North Korea's Kim Jong-un's missiles edge ever-closer to hitting Japan, Abe's successor, Mr. Kishida, is now all but erasing that distinction.
Tokyo's newly-announced strategy is adding "counter-strike capacity" to the country's defense stance. Among the new items in its shopping bag are 500 American-made Tomahawk cruise missiles. Japan would be able to fling these Tomahawks so as to hit Pyongyang, as well as targets in mainland China, from 775 miles away.
Washington is applauding Mr. Kishida's announcement. It would helpfully beef up the military capabilities of the Quad, a security dialog that includes America, Australia, India, and Japan and is animated by the challenge of Communist China's military buildup.
The Senate this week authorized a new $858 billion annual defense budget spending — which is $45 billion more than President Biden proposed. Yet America's military budget lags behind China's. A one-time military goal — fighting in two war theaters simultaneously — is no longer being sought in Washington.
Instead, America now aims to convince democratic allies to increase defense budgets to better cooperate in facing global security challenges. "We applaud Japan's commitment to modernize our Alliance through increased investment in enhanced roles, missions, and capabilities, and closer defense cooperation with the United States and other allies," State Secretary Blinken said in a statement Friday.
Mr. Blinken also announced the creation of a new State Department-led body, the Office of China Coordination. It would bring "a group of China experts from throughout the department and beyond" to address America's top national security challenge, Mr. Blinken wrote.
Alliances with the region's democracies, led by Australia and Japan, are America's best bet to address Mr. Xi's threats to invade Taiwan, a former national security adviser, Ambassador John Bolton, says.
"An overwhelming majority of people in Japan today would say they viewed a Chinese attack on Taiwan as being an attack on Japan," Mr. Bolton told the Sun's Caroline Vik. Beijing would be deterred if it realizes that "it's China versus a whole bunch of the rest of us and Taiwan," he said.
Unlike its WWII ally, Germany, Japan is ready to chip in for the new alliances. As the Hudson Institute's Mike Watson details in a Wall Street Journal column, Chancellor Scholz is fast retreating from his pledge, made at the onset of the Ukraine war, to amp up defense spending to two percent of Germany's GDP. Japan, in contrast, is stepping up to the plate.
Germany and Japan are far removed from the anti-Americanism of the Axis to which their countries were committed during World War II. Both are now democratic allies that face threats from, in Mr. Putin's Russia and Mr. Xi's China, formidable and increasingly belligerent neighbors.
Berlin seems stuck in a less dire past, when peace under an American military umbrella seemed like the best formula for prosperity and bliss. Tokyo, in contrast, is shedding trepidations, and pitching in to help its own security and ours.