'Might That Be Meghan in the Chopper?'
Unpacking the first of two Santa Barbara-area idylls at Montecito.
MONTECITO, CALIFORNIA — We were enjoying an otherwise idyllic lunch when the black helicopter chopped its way through the ocean-perfumed air above this peerless coastal enclave. Then, as heads tilted skyward, more than a few of us wondered aloud if the private copter might be ferrying the former actress Meghan Markle and her Californian-by-osmosis better half, the Duke of Sussex, to their $15 million Montecito mansion.
But just try to shake that kind of information out of a waiter at the tony San Ysidro Ranch — or almost anywhere else with a Montecito address — and a glint of the eyes or a semi-rehearsed shrug is about all you will get.
Or maybe not even that: Hollywood is very much present here, but this isn't Hollywood. Studios and celebrity vibes pulsate about 85 miles south and east in the manicured glades of Beverly Hills and Malibu, but Montecito has for more than a century been the home of old fortunes. And it is less Tinseltown than Emerald City — so beautiful and so shrouded in secrecy that one can never be quite sure if it is even there at all.
That, of course, is how the lucky locals like it. There is so much wealth concentrated in this unincorporated nook of Santa Barbara County that it is like the canals of Venice — extraordinary, but also the currency of everyday existence, and therefore barely discussed. Catnip for the curious is where you find it, such as in the pages of the Montecito Journal.
The current edition of that newspaper notes that billionaire filmmaker Tyler Perry, who is also a business partner of famous Montecito resident Oprah Winfrey, jetted into Santa Barbara from Los Angeles on his $12 million Gulfstream III plane to join the christening party for the the offspring of Prince Harry and Meghan Markle — but for only two hours, before flying away to his company headquarters at Atlanta.
Celebrity sightings in the winding, oak-shaded byways of Montecito are rare occurrences. Most hobnobbing takes place behind hedges high and gates ornate, though there are exceptions. Strategic sorties are de rigueur, such as those to one of Meghan Markle's favorite haunts: the genteel European-flavored emporium called Pierre Lafond.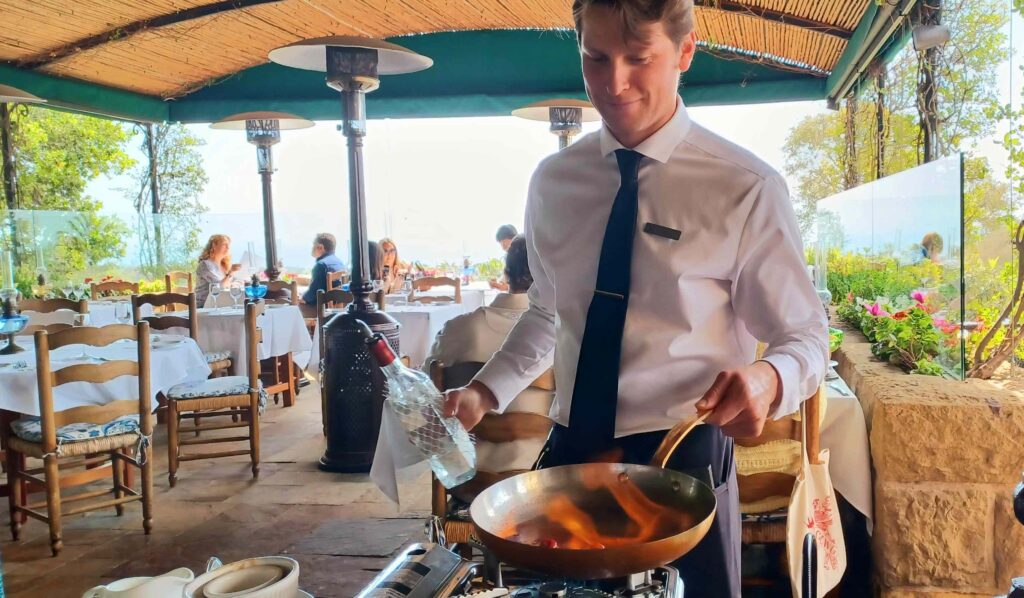 This high-end deli and marketplace embodies the Montecito lifestyle: very relaxed, very unpretentious, and very expensive. At a gas station on Coast Village Road you can buy a bottle of Coke or Pepsi. At Pierre Lafond, you can also buy a virgin Bellini cocktail in a nifty glass bottle imported from Italy, and lots more. All the food, from the Montecito Torpedo submarine sandwich to the array of eggy frittata wedges — California cuisine ideal for a beachside picnic basket — is fresh and fabulous.
Mr. Lafond passed away last year, but his market is still going strong and is something of an institution in a town where the bustle of commerce is the exception rather than the rule. Montecito is a place where the moneyed elite come not to labor, but to enjoy the fruits of their labors, and there is hardly any tourism at all.
In that respect, verdant hillsides and ravishing coastline aside, it is the very antithesis of the French Riviera. Uncrowded, understated, under the radar. That is what makes a place like the luxurious San Ysidro Ranch not so much a resort as a hideaway within a hideaway. Illustrious guests at the rambling property have been many, from John and Jackie Kennedy, who honeymooned here in 1953, to Laurence Olivier, Vivien Leigh, and Winston Churchill.
Although I did not stay in the 1,450-square-foot cottage where Churchill once sojourned, I highly recommend doing so if you can (but if you have to ask how much it costs … insert timeworn adage here). Its library is small but magical and nothing one might ever expect to find in the verdant Santa Barbara foothills. Prince Harry reportedly did his interview for 60 Minutes here, and the terrace, overlooking a private rose garden, is the hushed setting the Duchess of Sussex chose for a photoshoot for Variety magazine.
My favorite of the 38 cottages is elsewhere on the property. As a Santa Barbara native who has principally equated the area's natural component with the beach, I was thrilled to discover that the Eucalyptus cottage borders a small ridge below which flows the normally placid San Ysidro Creek. But after an unusually rainy winter it is more like a torrent, and from the cottage you can hear its becalming roar.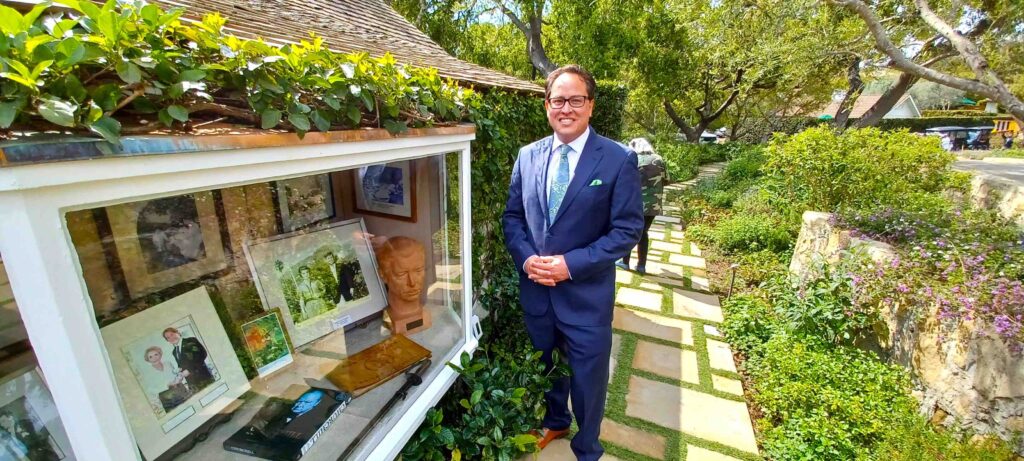 Thanks to the ranch's eagle-eyed and affable general manager, Ian Williams, I was able to view some of the ranch's lush gardens and guest cottages after lunch at the resort's Stonehouse restaurant, which unlike most of Montecito is open to the public. What enticed me to the table was an advertisement in a local newspaper that asked, "Want a 'Gatsby' Moment?" Who doesn't? The ad suggested ordering a classic cherries jubilee with bing cherries and kirsch served over vanilla bean ice cream and flambéed tableside.
It was as I was about to tuck into that tangy throwback treat that the chopper appeared, along with the attendant muted chatter about who the passengers might be.
Does it really matter? Of course — well, sort of … okay, not really. Not when the food is as luscious as this and the air is so silky Pacific soft and clear. Not when the blue shimmering beyond the dining terrace and all the way to the Channel Islands reminds you that — apologies, Manhattan — American real estate gets no more magnificent than this.