'Monster' Is a Mess, but Fans of the Director, Hirokazu Kore-eda, Will Certainly Want To Buy Tickets
At one point, almost furtively, the movie collapses into something kaleidoscopic, with shifts in viewpoint, time, and character that are as confusing as they are promiscuous.
"Monster," the latest effort from Japanese director Hirokazu Kore-eda, is an unruly mess that could only have been made by a master filmmaker. Can a warning also serve as a commendation? In Mr. Kore-eda's case, it seems possible.
Should you have seen some of Mr. Kore-eda's previous films — I'm thinking of "After Life" (1998), "Like Father, Like Son" (2013), and "Shoplifters" (2018), but also "The Truth" (2019), the first of his films set outside of Japan — you know he's not lacking in ambition or empathy. His understanding of the human animal is particularly sharp and blessedly abundant in humor. Whether he's exploring parenthood, companionship, or class (or, if you prefer, reputation), Mr. Kore-eda is constitutionally incapable of being facile. He's a humanist, albeit often an acerbic one.
The expansive nature of "Monster" — its sundry complications, tangents, and blind alleys — can best be likened to novels whose narrative structures are capsized by the intricacies of interpersonal relationships. Jun'ichirō Tanizaki's "The Makioka Sisters" seems an obvious go-to, but equally applicable is, say, Christina Stead's "The Man Who Loved Children" or the 19th-century writer of your choice, particularly those hailing from Britain or Russia. Mr. Kore-eda isn't as genteel as George Eliot or as dour as Doestoevsky, but he does have a similar tendency to ramble on. The director is in good company.
Having put that all into place, Mr. Kore-eda does pick up the cinematic ball here — not from Yasujirō Ozu, whose films about family and responsibility often serve as comparisons, but, rather, Akiro Kurosawa or, more to the point, "Rashomon" (1950), the classic film in which a single story is told by a set of its participants, each of whom brings a different and sometimes opposing spin on what occurred. That's the direction to which "Monster" initially leads us. Where we end up is another matter.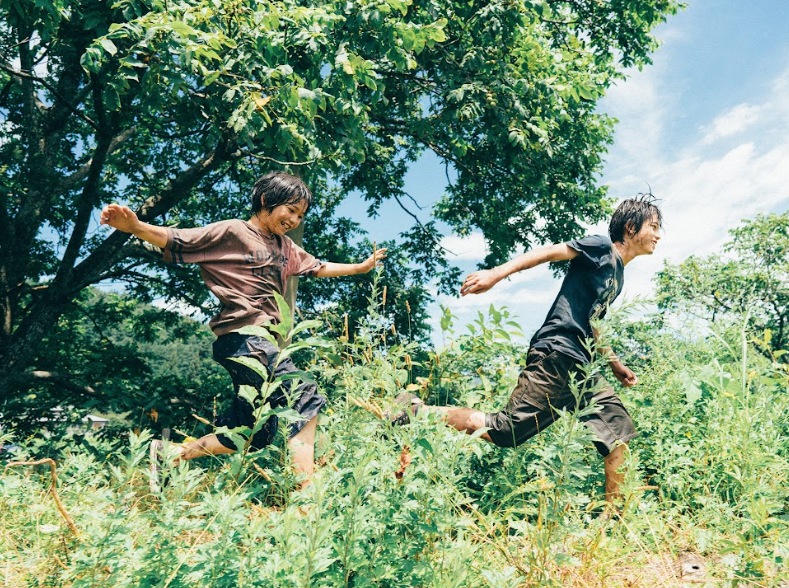 The picture begins with a highrise on fire, the location, apparently, of a hostess bar — a not altogether reputable establishment in which men are kowtowed to by an all-female staff. We watch the pyre from the apartment of Saori Mugino (Sakura Ando in a ferocious performance), a single mother who is soon joined on the terrace by her teenage son Minato (Soya Kurokawa).
Not soon thereafter, Saori hears some juicy scuttlebutt from a friend: a teacher at Minato's school, Mr. Hori (Eita Nagayami), was a regular patron of the no longer extant hostess bar. Saori isn't altogether surprised: She's heard a distressing thing or two about Mr. Hori from Minato. Weird stuff about the transplanting of pigs' brains into humans, like that.
When Minato's behavior become erratic — he loses a shoe, cuts his own hair and, most alarmingly, exits a moving car — Saori decides to confront the school's principal, Makiko Fushimi (Tanaka Yuko), a glum older woman who we initially see on her hands and knees, dutifully scraping gum off the floor of the school's lobby.
A meeting is arranged for Saori to confront Mr. Hori in the company of Principal Fushimi and a couple of erstwhile colleagues. What results is an apology so by-the-book that, in fact, a book is referred to in the attempt to tide over Saori's frustrations. What is disclosed in this farcical scene — Mr. Kore-eda has a wonderfully deadpan touch for comedy — is that Mr. Yogi isn't bullying Minato, but, rather, Minato has been bullying a smaller boy named Eri (Hinata Hiiragi).
At which point, the movie's title card reappears and we're back to the evening of the burning building. This time around, the audience is placed in the company of Mr. Yogi who isn't as contentious or creepy as we were previously led to believe. He's serious about teaching and has a perky, fun-loving girlfriend. When things go awry at school during this narrative, we're led to some very different conclusions about each of our players.
Then, almost furtively, the movie collapses into something kaleidoscopic, with shifts in viewpoint, time, and character that are as confusing as they are promiscuous. Admittedly, there isn't a scene that Mr. Kore-eda doesn't bestow with a degree of poetry, but the old complaint about Cubism holds true: Narratively speaking, "Monster" turns into an explosion in a shingle factory.
The plaintive soundtrack provided by the late Ryuichi Sakamoto does what it can to bring cohesion to Mr. Kore-eda's wanderings, but this is a film in need of structure. As it is, "Monster" can't sustain the psychological nuances it so tenderly sets into place. Should you be a fan of Mr. Kore-eda, buy a ticket absolutely. Newbies, though, are recommended to start elsewhere.