Nikki Haley Opens a Big Lead Over Biden in New Poll, but She's Not Even Close To Catching Trump
At an event in New Hampshire with Moms for Liberty, Ms. Haley said that 'we need a mom in the White House.'
A former South Carolina governor, Nikki Haley, is the only Republican presidential candidate with a significant lead over President Biden in a head-to-head matchup, according to a CNN poll released Thursday. President Trump holds a commanding lead in primary polls, but will voters start to take a second look at Ms. Haley?
At a town hall Wednesday night in New Hampshire, Ms. Haley teamed up with Moms for Liberty to pitch herself to voters as the parental rights in education candidate — a sort of easier-to-digest version of Governor DeSantis's signature issue. Many of the attendees who spoke with the Sun said they came because they were impressed by Ms. Haley's debate performance.
The CNN poll shows Ms. Haley beating Mr. Biden by 6 percentage points. All the other Republican candidates are statistically tied with Mr. Biden.
Ms. Haley joined Moms for Liberty's co-founder, Tiffany Justice, to take questions from voters, wading into transgender issues, declaring we "need a mom in the White House," and saying that "school bureaucrats and teachers unions are trying to take custody of our kids. We can't allow that to happen."
"Joe Biden just attacked me, saying I was being a 'MAGA extremist' for doing an event with Moms for Liberty," Ms. Haley told the crowd. "And if Joe Biden thinks I'm being a 'MAGA extremist' for being a mom for liberty, then count me as one of them, because we have to be extreme when it comes to our kids."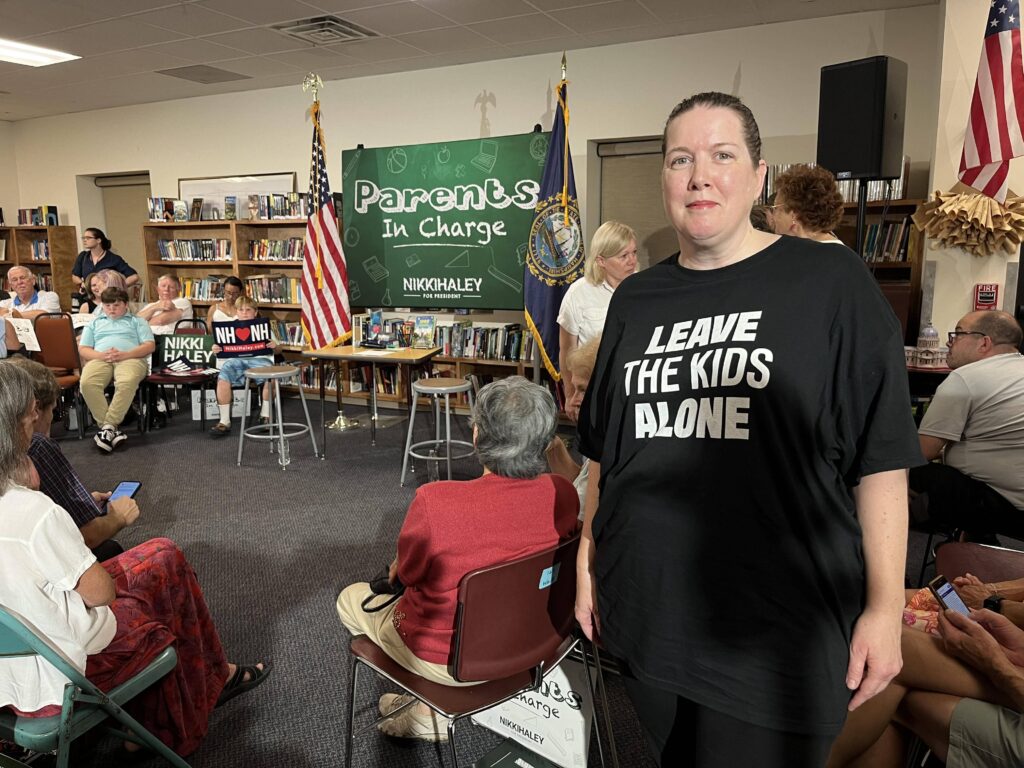 Parental rights is one of the most hotly contested issues in this election cycle so far. California's governor, Gavin Newsom, recently condemned school boards in his state that passed policies to require teachers to notify parents when a child comes out as transgender or nonbinary in school. The Democratic attorney general opened a civil rights investigation in one of these California districts.
These fights are happening in other states as well. The issue is hitting home in New Hampshire, where a mother is suing the Manchester School District for keeping secret her child's gender transition. Ms. Justice reminded the audience of her group's motto: "We don't co-parent with the government."
The Southern Poverty Law Center in June designated Moms for Liberty an extremist group, alleging that it "propagates conspiracy theories about public schools attempting to indoctrinate and sexualize children with a progressive Marxist curriculum."
Ms. Haley mocked that designation on X, formerly known as Twitter, and on Wednesday signed Moms for Liberty's "Parent Pledge" before the audience of about 60 people in a packed room inside a charter school.
Ms. Justice tells the Sun that Ms. Haley and businessman Vivek Ramaswamy are the only presidential candidates so far to sign the pledge, though she expects others will follow. Moms for Liberty does not plan to make an endorsement in the Republican primary.
"The bottom line is this: If every candidate is talking about putting parents in charge, like Nikki did today, then the American people are winning," Ms. Justice tells the Sun.
Ms. Haley spoke about the harms caused by masking children in schools and about protecting women's sports and locker rooms. "I don't even know how I'd have that conversation with my daughter," Ms. Haley said. "How do we get them used to biological boys in their locker rooms? You can't."
Ms. Haley also dipped her toes into the contentious issue of child gender transitions. "I believe in freedom. I believe in your state motto: Live free or die," she said. "If an adult decides that they want to transition, they are welcome to do that. But we're talking about kids. You can't even get a tattoo until you're 18."
"I think we need a mom in the White House," Ms. Haley said.
The Sun spoke with a dozen audience members before Ms. Haley's speech and only one person said Ms. Haley was her first-choice candidate. Among the others there was a clear divide: Those who came to see Ms. Haley and cared little about Moms for Liberty said they are also considering voting for Governor Christie, Governor Hutchinson, and, to a lesser degree, Senator Scott; among those who came for the Moms for Liberty message, their first choice pick was Florida's governor, Ron DeSantis.
President Trump is leading in New Hampshire primary polls by more than 35 points. Ms. Haley and Mr. DeSantis are tied for second at 10 percent in the latest poll, with Messrs. Ramaswamy and Christie nipping at their heels with 8 percentage points each.
Ms. Haley's message was well received but it didn't seem to lock in any of the undecided voters with whom the Sun spoke. "I appreciate she came on an issue that is important to parents," an education activist who attended the town hall, Ann Marie Banfield, tells the Sun. "I'm an undecided voter and I remain undecided."
A die-hard Nikki Haley supporter, Andrea Gundersen, who brought two of her four kids to the town hall, thought differently. "She definitely nailed it," Ms. Gundersen tells the Sun.