The Art World Recovers From Its Guston Derangement Syndrome
You'll recall that a group of museum officials pulled the rug out from under a 2020 retrospective of the seminal painter's work. The Metropolitan Museum of Art's new exhibition shows we've moved on.
Have our cultural institutions recovered from their collective case of Guston Derangement Syndrome? You'll recall that a group of museum officials pulled the rug out from under a 2020 retrospective of the seminal painter's work, "Philip Guston Now," due to their trepidation about just how "the powerful message of social and racial justice that is at the center of Philip Guston's work can be more clearly interpreted." 
After a collective of art world machers wrote a public letter condemning the decision, the rug was reinstalled, albeit with much self-flagellation among the organizers. As my colleague A.R. Hoffman outlined in his review last year of the exhibition and the surrounding controversy, Guston's work is "so much more interesting than the protestations of art world mandarins who sought to wipe him from the schedule." 
Guston, one likes to think, would have taken in the whole affair with considerable irony. After smoking a raft of cigarettes, he might've trundled off to the studio to paint a mordant canvas or two. Ah, the best laid schemes of mice, men, and curators driven to distraction over their social justice standings….
An exhibition at the Metropolitan Museum of Art titled "Philip Guston: What Kind of Man Am I?" opened recently with little hand-wringing but significant fanfare. It was big news that the artist's daughter, Musa Guston Mayer, had endowed the museum with "an extraordinary promised gift" of 220 paintings and drawings. She also donated $10 million to encourage further research into her father's varied, controversial, and, so it would seem, inescapable output.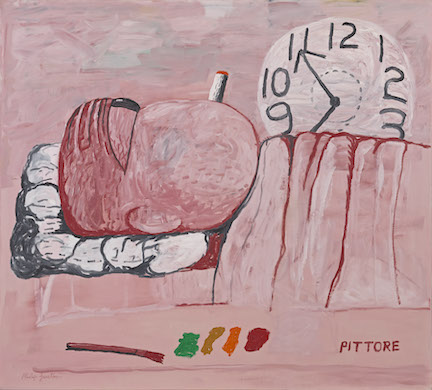 The exhibition title stems from Guston's reaction to the turbulence of the 1960s: "What kind of man am I, sitting at home, reading magazines, going into a frustrated fury about everything — and then going into my studio to adjust a red to a blue?" Believe the art, not the artist: Guston's abilities as a colorist are a vital reason we attend to the work. Without that tender red nudging up against that questioning blue, Guston's imagery wouldn't have the painterly authority that has garnered the work legions of admirers.
Then again, anyone who starts painting members of the Ku Klux Klan as if they had just galumphed their way out of "Mutt and Jeff," Bud Fisher's classic comic strip, definitely had something on his mind. "Riding Around" (1969), one of eight select works on exhibit at the Met, pictures three lumpish Klansman, stogies alight, barreling through a distant city in a sedan convertible. They are markedly nonplussed about their duties for the day. The banality of evil, anyone?
The core of works being gifted to the Met were previously assigned N.F.S. status — that is to say, not for sale. Guston kept certain pictures close at hand and didn't want to relinquish them. Viewers can conjecture about what the artist's rationale might have been. "The Palette" (1975) pays homage to both the tools of his craft and his wife, Musa McKim; "Painter's Hand" (1979) does so to the primacy of the art form itself. "Pantheon" (1979) is a literal inventory of Guston's heroes; among those named are Giotto, Piero, and Tiepolo. Curators, ever on the lookout for a hook, are likely enamored of the latter.
"The only technique we can learn," Guston told a group of art students in 1970, "is the capacity to be able to change … you have to keep learning how to play in new ways all the time." Museum-goers with a full sense of Guston's oeuvre know that his vaunted shifts in "technique" are marked just as much by continuity of purpose, image, and what can only be called moral integrity. Creativity, as Guston knew full well, is nothing if it doesn't embrace paradox. "What Kind of Man Am I," then, isn't the whole story, but the story it does tell is laid out with evident measure and something approaching tenderness.