There Are Reasons To Compare 'Peeping Tom' and 'Psycho,' but the Differences May Be More Interesting
Undergoing a one-week revival at Film Forum, 'Peeping Tom' has a spotty, contentious history. If 'Psycho' confirmed Hitchcock's mastery, 'Peeping Tom' put a stopper on Michael Powell's career.
"Peeping Tom," the notorious cult film by British director Michael Powell, is typically compared to Alfred Hitchcock's "Psycho." Not only were both films helmed by acclaimed directors with prodigious oeuvres, the movies also shared themes — not least among them, the vagaries of aberrant sexuality and the quixotic nature of parental influence.
Both pictures killed off their star attractions early on in their running times — Janet Leigh in "Psycho" and the ineluctable Moira Shearer in "Peeping Tom." Another striking commonality are the maladjusted loners at their centers, men given to murder when their longings prove too much to bear. Let's not forget the year in which the films were released: 1960. The culture was shifting in myriad ways. "Psycho" was no small signpost of changes that were to come.
The same could be said, maybe, for "Peeping Tom," a movie undergoing a one-week revival at Film Forum starting this Friday. The picture has a spotty and contentious history. If "Psycho" confirmed Hitchcock's mastery for critics and audiences alike, "Peeping Tom" put a stopper on Powell's career. Although his films with Michael Pressburger — most notably "The Red Shoes" (1948) and, their best work, "The Small Back Room" (1949) — achieved a gold standard for British cinema, their collaborations began to lose steam in the 1950s, particularly at the box office.
"Peeping Tom" was Powell's second effort without Pressburger, the first being "Honeymoon" (1959), a movie that is charitably remembered for a title song that was later recorded for the BBC by the Beatles. Working with a script by former cryptographer Leo Marks, Powell brought his signature brand of lurid high artifice to the story of Mark Lewis (Carl Boehm), a full-time cameraman and part-time pornographer who's also keen on killing beautiful young women. Why? Pace Johnny Cash, just to watch them die.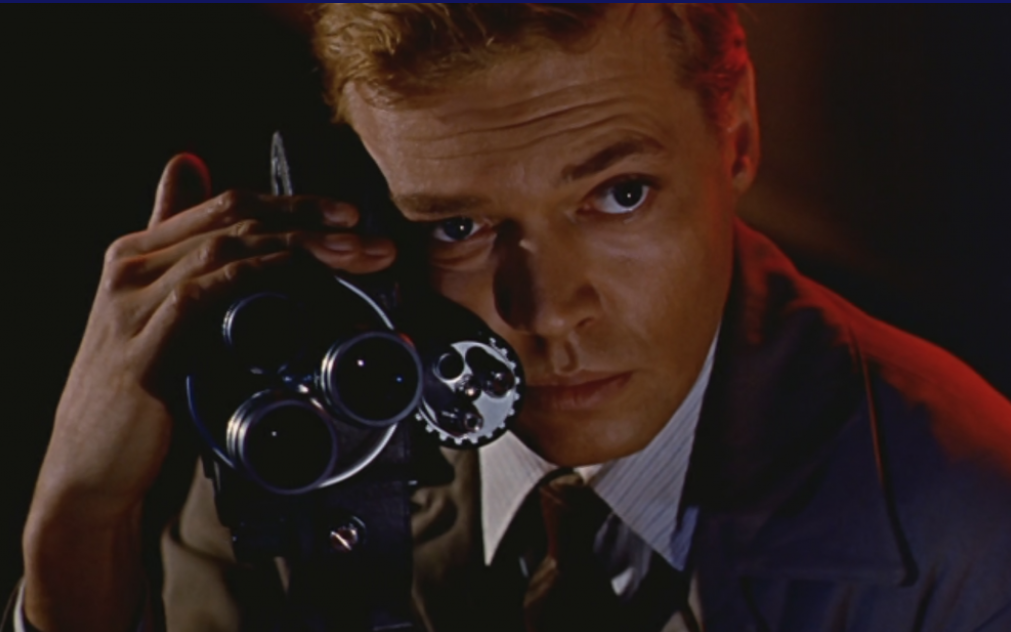 Mark's manner of doing so is elaborately premeditated and, given a moment's reflection, inordinately impractical. On the pretense of filming a close-up, Mark unsheathes one of the legs of his tripod, revealing a gleaming chrome lance. As he approaches his victims and then impales them, their faces register a gamut of emotions until they are no longer capable of registering emotion at all. At these moments, Powell shoots from a point of view that strong-arms the audience into taking on the guise of a killer.
Things get sticky for Mark when he begins to have feelings for his neighbor, Helen Stephens (Anna Massey), who lives downstairs with her blind mother (Maxine Audley). Notwithstanding her pixieish demeanor, Helen is rather forthright in her pursuit of the soft-spoken Mark — who, she finds out, is actually her landlord. Mark inherited the property from his father, a renowned psychologist whose research involved some rather unscrupulous practices, all of which were committed to film. Helen gets a gander of the good doctor's home movies. Mark's eccentricities begin to make some sense.
You don't have to be a dyed-in-the-wool Freudian to intuit the psychological undercurrents funneling their way through "Peeping Tom"; they're as shrill as Powell's saturated color palette and as blatant as the holes in his plot. Cineastes tend to forgive the film's stilted theatrics and tone-deaf mise en scène by playing up its self-reflexiveness, by how the picture allows the viewer to, in director Martin Scorcese's estimation, "discover everything about people who make films."
Whatever you say, Marty. For the rest of us, "Peeping Tom" is an icky apercu to a bumpy career, a picture that can't quite shake off the self-importance of its creator. In the end, the most vital distinction between Powell's picture and "Psycho" is the former's lack of humor and a sense that, as a cinematic subject, a serial killer is as good as any old port in a storm.
Hitch wouldn't have stood that for a moment; in his own perverse way, he loved Norman Bates. For Powell, Mark Lewis was an adjunct, not a component, of vision. In that regard, "Peeping Tom" is a stellar exercise in form that has a human-sized hole directly at its center.