Unpacked: This Thanksgiving, Some Will Switch Out Turkey for an Overstuffed Suitcase 
To London from Athens, classic destinations reinvent themselves in a bid to draw travelers throughout the year.
ATHENS — Martha turned to me and purred above the din, "Your crust has more puff than mine." It was a jam-packed evening at some newfangled pizzeria in Chelsea when America's doyenne of all things domestic almost grabbed a slice from my plate to inspect its Neapolitan perfection. Were it up to me, I offered, Thanksgiving, which was fast approaching, would be feted not with overcooked fowl but instead with a little dough, sauce, and cheese.
That was many Novembers ago, but Ms. Stewart's brave new declaration that she is "turkeyed out" brought it home — and with it the time-tested truth that sometimes the best way to appreciate home is from a galaxy far, far away. Tradition with a twist, as it were. Now that pandemic-era travel restrictions have been consigned to the past, celebrating quintessentially American holidays abroad is less impossibility than imperative.
People are on the move. The busiest holiday travel season on record is now under way and flights in all directions are packed. With a world at war it is easy to forget that away from the dreary headlines pizzas with San Marzano tomatoes not from the can beckon and familiar places are reinventing themselves in ways that should be experienced as if Instagram never existed.
One such place is the southern part of the Greek capital that has been dubbed the "Athens Riviera." Though it is has little in common with the French one apart from the Mediterranean Sea — warmer and more mysteriously chiseled in these parts — the stretch of coast from Glyfada up to the temple of Poseidon at Cape Sounion is undergoing a transformation.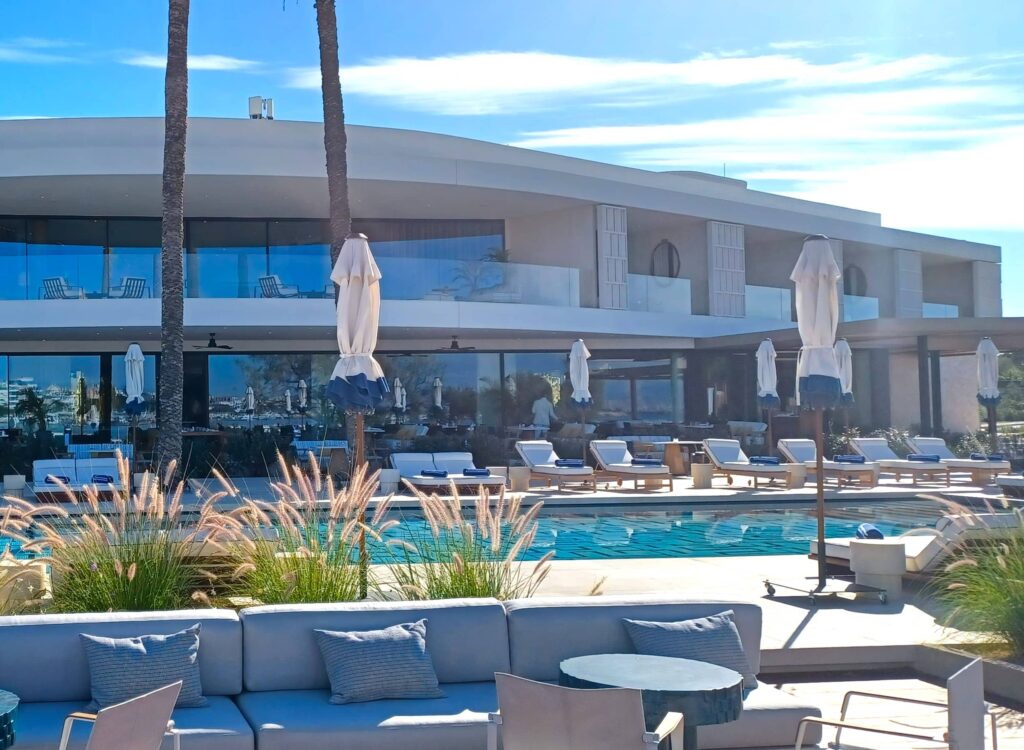 A huge urban renewal project has started at Ellinikon, home until 2001 of Athens' international airport and for many years an operations base for the United States Air Force. Ellinikon borders Glyfada, where there was once a NATO officer's club and where even now locals know how to find hidden coves that were it not for the distant roar of traffic could be mistaken for obscure Greek islands. The project will be years in the making, but one that has just been completed is a luxury seafront resort called One&Only Aesthesis.
It is situated on a sprawling parcel of land on a peninsula that juts into the Saronic Gulf — you can see the island of Aegina, long ago a rival to ancient Athens, across the water. The resort quietly opened this month, following a ribbon-cutting ceremony where Prime Minister Mitsotakis spoke in faultless English about benefits to the economy of bringing more high-end tourism developments into Greece, of which Aesthesis — think aesthetics, etymology aficionados — is a prime example.
The thing to do here is to book one of the bright and airy seaside bungalows, which channel the vibe of the 1960s when these kinds of hideaways shielded the likes of Maria Callas and Jacqueline Kennedy Onassis from the paparazzi. From the terraces of many of them you can jump right into the sea — after an unusually hot summer still warm enough in November to do so.
There's nothing like a quick dip to alleviate jet lag or work up an appetite. A recent site inspection sadly left no time for either unwinding at the Guerlain spa or to dine, but Chef Ettore Botrini's "playful, inventive twist on Greek cuisine through an Italian lens" at the Ora restaurant looked promising. Feasting on forkfuls of beef battuta — Piedmontese beef with Toscana pecorino cream, Greek truffle, and spinach — over a bottle of red wine from the ancient Nemea vineyards near Corinth, one could almost forget about things like war in the Middle East or blanket coverage of Taylor Swift's coded messages to her new Kansas City flame.
Travelers can be expected to forget about football and remember something about war when they check into, or simply check out, the rebooted Old War Office building in London's Whitehall neighborhood. At one point as many as 2,500 people labored in this behemoth of a building that served as Winston Churchill's headquarters during World War Two. T.E. Lawrence once toiled there too.
Now this grand edifice has undergone an epic transformation that includes London's first Raffles hotel. How times change: the former office of Churchill, John Profumo, and Sir Richard Haldane can now be combined to create a six-bedroom, 5,381 square-foot suite for all your London celebratory needs.
There are corner suites named for such influential women such as Viscountess Astor and Clementine Churchill, while a half-dozen more are named after notable women of World War Two including Christian Lamb and the British spy, Vera May Atkins.
Then there is the food. Although it is never a bad idea to fly to Paris to eat — the least decorated chef on either side of the Seine knows how to pan-sear a poulet better than you do — les rosbifs are once again stealing thunder from the froggies. That is because the new OWO is also a new high-end culinary destination with no fewer than nine gourmet restaurants. These include a sparkling London outpost of Paris's famed Café Lapérouse, an eatery called Paper Moon (no relation to the film, apparently), and Mauro Colagreco at the OWO for "elevated dining" that showcases "hyper-local, hyper-seasonal ingredients."
More intriguing, and arguably more British, is a trifecta of bars that include the Spy Bar, situated in an underground warren once used by MI5. Cue a more commanding sense of place above ground, where the Guards Bar and Lounge looks out over the Horse Guards. This is exactly the right spot to try the signature libation, the London Sling — and if there's no holiday on the calendar, just dream up one of your own.
Unpacked is a periodic travel column from Mr. Grant in which he highlights a destination of interest to today's curious traveler.