A Most Compelling Musical Omnivore, Michael Garin Plays It All
As the pianist tells it, 'My favorite moments are when everyone is tapping their toes and bobbing their head. It's a blessing to be in the happiness business.'
Michael Garin at the Roxy Hotel
Tuesdays Through Saturdays
The pianist Michael Garin started his Saturday set at the Roxy Hotel at 6 p.m. with "Aquellos Ojos Verdes (Green Eyes)," the iconic Cuban rumba — sometimes categorized as a bolero — from 1929. From there, he segwayed into similarly exotic instrumentals from several decades later, namely Bert Kaempfert's "A Swingin' Safari" and Herb Alpert's "Tijuana Taxi."
Then, Carole King's "One Fine Day" progressed into Antonio Carlos Jobim's "The Waters of March." The Miriam Makeba hit "Pata Pata" gave way to a Rodgers and Hammerstein song from the Broadway production of "The Sound of Music" that didn't make it into the movie version, "How Can Love Survive?" After that came "My Cherie Amour," embellished with a tiny quote from Felix Mendelssohn's overture to "A Midsummer Night's Dream," and then into a Steve Wonder hit, "Don't You Worry 'Bout a Thing," followed by the "Habanera" ("L'amour est un oiseau rebelle") from the opera "Carmen."
It was at this point that Mr. Garin took his first pause for applause. No, that wasn't a whole set's worth of music. In fact, it wasn't even quite five minutes.
Michael Garin is perhaps the most compelling musical omnivore I've ever encountered. Up through the end of the 20th century, nearly every major Midtown Manhattan hotel lobby had a cocktail hour pianist, who played as a background for conversation and alcoholic consumption. All of them made it a mandate to know every show tune ever written, as well as every tune in the Great American Songbook, from Cole Porter to Duke Ellington.
Mr. Garin goes well beyond total recall of every Broadway number and/or standard. About 15 years ago, he first impressed me in that he seemed to not only know all that but was also a walking repository of world music. If you happened to need a song for a Venezuelan wedding dance, a Chinese tong funeral, or a Kurdish bar mitzvah, he has all of that at his fingertips as well.
It was his prowess with Mediterranean and North African musical traditions that led to him forming the Habibi Kings, a trio with violinist Samir Shukry and percussionist Ossama Farouk that plays long medleys of Middle Eastern music that frequently interpolate Mozart with the Rolling Stones.
What surprised me most while listening Mr. Garin at the Roxy — where he has been playing five evenings a week for the last seven years — was the degree to which he incorporates contemporary pop and even rap, intermingling Lizzo, Busta Rhymes, and Jay-Z side by side with Stephen Sondheim and Noel Coward. "Rap isn't singing, but it is music, it's using the spoken word as a percussion instrument for the purposes of reportage," as he describes the genre, adding, "It's like a newspaper that you can dance to." Recently, he reports, he was spontaneously invited to contribute a piano track into a forthcoming release by the rapper A$AP Rocky.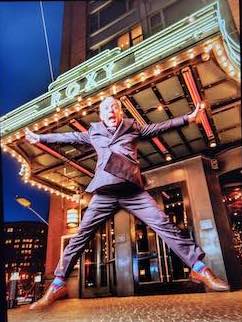 The second mini-segment got under way with David Bowie's "Life on Mars," which served as an introduction to a surprisingly uptempo "Anyone Can Whistle." Then Ramsey Lewis's signature "The In Crowd" preceded a trio of Harry Belafonte calypsos — "Man Smart, Woman Smarter" (how true), "Yellow Bird," and "Matilda." Nina Simone's shuffle arrangement of "My Baby Just Cares for Me" somehow became "Consider Yourself" from "Oliver." Next thing you know, "It Wasn't Me" by Shaggy was being repurposed to frame "People Will Say We're In Love" from "Oklahoma!"
It's hard to think of a genre or a songbook that Mr. Garin doesn't incorporate, from jazz and pop to classical and even chamber music. In other guises, Mr. Garin is the composer of the long-running off-Broadway musical "Song of Singapore," and half of the cabaret-driven team of Michael and Mardie, with his wife, Mardie Millit.
Mr. Garin, who is 68, reports that he honed his craft in the 1980s playing the midnight to 4 a.m. shift in the VIP Room of the long-vanquished rock-'n'-roll shrine Limelight on Sixth Avenue. He says he studied deejays and the way they gauge what a crowd wants to hear, and applied the same principles to playing tunes on a keyboard rather than spinning records. He's delighted when the crowd listens, but not put out when they talk — over the course of his two-set performance, you will undoubtedly do a lot of both.
So far, I've only detailed the first 10 minutes. The rest of the evening included a 5/4 time segment with "Take Five," and "Norwegian Wood," with Lalo Schifrin's "Mission Impossible" and "Mannix." Along the way he mashed up "Ente Omri" by the legendary Egyptian pop queen Om Kalthum into "When Doves Cry" by Prince. "Dueling Banjos" morphed into "Zorba's Dance" and then to "Take Me to the Fair" from "Camelot." Next it was "Palo Bonito" by the Puerto Rican pop star Chayanne into Liszt's "Hungarian Rhapsody #2," Abba's "Take a Chance on Me" and Rossini's "William Tell Overture."
The game of "name that tune" that one plays with Michael Garin isn't merely pedantic or fodder for song nerds, even though by the end of it, he was reeling off tunes much faster than anyone, including myself, could recognize them and write down the titles. I can't imagine that there beats a heart so dead that it wouldn't chuckle at least a little bit when he combined "I'm Called Little Buttercup" from "H.M.S. Pinafore" with "Build Me Up Buttercup" by the Foundations. I asked him if there's any major composer or band that hasn't been represented in one of his sets, and he actually had an answer: "Radiohead," he said. "But I couldn't tell you why."
At 8:15 p.m., I left the Roxy feeling much lighter than when I walked in. As Mr. Garin says, "My favorite moments are when everyone is tapping their toes and bobbing their head. It's a blessing to be in the happiness business."
Correction: Shukry and Millit are the correct spellings of the last names. The names were misspelled in an earlier version.