Age Is But a Number to the Women of a Certain Age Behind 'The Gardens of Anuncia'
Graciela Daniele, who turns 84 next month, is the source of inspiration for Michael John LaChiusa's sparkling, moving new musical, and helps another dynamic septuagenarian, Priscilla Lopez, in this production.
The roles available to female performers as they mature are summed up in the Stephen Sondheim tour de force "I'm Still Here," from his musical "Follies": "First you're another sloe-eyed vamp/Then someone's mother/Then you're camp."
Thankfully, this is not always the case. Just last week, Dianne Wiest enjoyed a triumphant opening in John J. Caswell Jr.'s play "Scene Partners," an exuberantly absurdist but poignant study of a 75-year-old widow with unusual ambitions. Now another dynamic septuagenarian, the Broadway veteran Priscilla Lopez, has gotten her own vehicle — under the guidance of an extraordinary woman nearly a decade her senior.
That would be Graciela Daniele, who turns 84 next month and is the source of inspiration for Michael John LaChiusa's sparkling, moving new musical, "The Gardens of Anuncia." Ms. Lopez is one of two women cast in the title role, that of a girl who comes of age in the 1940s and '50s in Argentina — under the iron fist of Juan Perón's regime, but in the loving arms of her single mother, grandmother, and aunt — then later finds international renown as a dancer and choreographer.
Anuncia is obviously a stand-in for Ms. Daniele, the composer/lyricist/librettist's longtime friend, who's also an accomplished director — a role she plays here, in addition to choreographing the production with Alex Sanchez. In an interview featured in the program, Mr. LaChiusa, a theater and opera stalwart whose musicals include cult favorites such as "Marie Christine" and "The Wild Party," notes that "Anuncia" is "not a biomusical; it's more of a fantasia on a life, a riff on a memory play. It's based on real life and real stories, but there's an element of magic to it as well."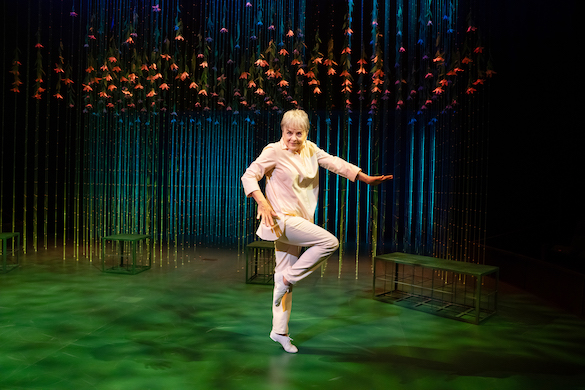 Indeed, all kinds of enchantment are at work in this production, in which we find the older Anuncia — played by Ms. Lopez with all the warmth and grace that have distinguished her performances since her star-making turn in the original production of "A Chorus Line" — at work in her beloved garden, reflecting back on her youth and the strong but tender women who shaped it.
There's Anuncia's feisty Granmama, who dispenses bits of wisdom such as, "Don't plant your tomatoes too close together, or they'll become resentful. And there's nothing you can do with a resentful tomato." The role could have been handmade for stage favorite Mary Testa, who plays it deliciously, digging with particular relish into some of the matriarch's spicier remarks.
Another popular trouper, Eden Espinosa, lends grit and disarming vulnerability to the part of Anuncia's self-sacrificing Mami, while Andréa Burns sings beautifully and emanates kindness as Mami's sister, Tía. As the young Anuncia, whom we meet at the age of 8 and follow into her teenage years, Kalyn West delivers a performance bursting with youthful freshness, conveying both tenderness and mischief.
Actors Enrique Acevedo and Tally Sessions are charming in various supporting roles, from Anuncia's playful Granpapa to a pair of talking deer who engage the older Anuncia, who explains to the audience, "In my garden, 'magic realism' is just … reality."
Mr. LaChiusa's twinkling score, with its flourishes of tango and other Latin accents — fans may be reminded at points of "Bernarda Alba," his musical adaptation of the Lorca play — reinforces both the fanciful and the sobering aspects of the story he has crafted here. Anuncia's absent father looms throughout, neither forgotten nor forgiven, as do the tyrannical Peróns — both Juan and his wife, Eva, famously the subject of another show, though we don't see either.
The latter becomes a subject of debate among the women, who also invoke the Virgin Mary; Anuncia, we learn, was named after the occasion of the archangel Gabriel's announcement to Mary that she would bear God's son, if she consented. In "The Anunciation," as the actresses harmonize exquisitely, Tía and Mami sing, "Though she was chosen, Mary still was free."
The quest for freedom, as citizens and as women, is a persistent theme in "Anuncia," and is reinforced in Ms. Daniele's subtle but gorgeously lyrical choreography, which accommodates both Ms. West's spry energy and Ms. Lopez's enduring pluck and elegance. Knowing that the younger Anuncia will blossom and conquer the world only makes their struggles, and the fierce connection she will maintain with them, more profound.
"How can I say goodbye?" the two Anuncias both ask near the end; they are technically addressing different people, but their resolution, detailed in song, is directed toward all of us, and like much else here, it will at once haunt and reassure.