Beckett's Absurdist Vision Comes to Vivid Life at Irish Repertory Theatre
The key to any production of 'Endgame' lies in mining the humor with which the playwright relayed despair. It's best summed up by Nell, who observes, 'Nothing is funnier than unhappiness.'
The program cover for Irish Repertory Theatre's excellent new production of "Endgame" is designed like a chess board, with sketches of the four world-class actors who make up the company — Bill Irwin, John Douglas Thompson, Joe Grifasi, and Patrice Johnson Chevannes — occupying squares.
The metaphor was provided by the playwright: Samuel Beckett, who liked a good game of chess, titled this tragicomic classic after its final stage, in which only a few pieces remain, so that an especially keen strategy is required. In "Endgame," of course, the characters are less players than pawns, and it's clear from the start that any strategizing would be futile.
For this staging, helmed by the Irish Rep producing director, Ciarán O'Reilly, with both discretion and vigor, scenic designer Charlie Corcoran has furnished a post-apocalyptic purgatory in dingy earth tones. At the center sits Mr. Thompson's Hamm, a blind, paralyzed tyrant attended to by Mr. Irwin's Clov, a servant cursed with the opposite dilemma: He can't sit down. Two trash bins are placed stage right: They house Hamm's geriatric parents, Mr. Grifasi's Nagg and Ms. Johnson Chevannes's Nell.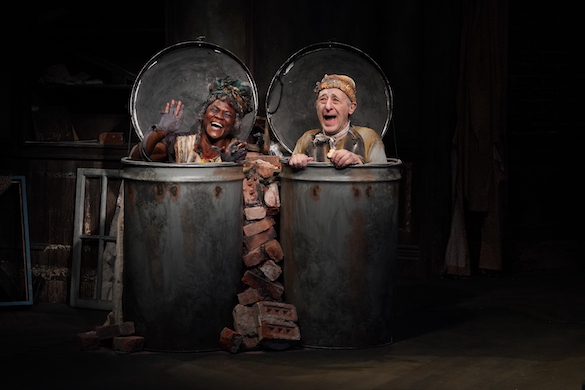 In the first line, uttered by Clov, the word "finished" appears four times — confirming that, whatever huffing and puffing the members of this quartet engage in, nothing will be done to appease their misery. The key to any production of "Endgame" lies in mining the humor with which Beckett relayed this despair. It's best summed up by Nell, who observes, less than halfway through the one-act piece, "Nothing is funnier than unhappiness."
No actor could be better suited to this task than Mr. Irwin, who in addition to being a Beckett veteran and authority is an expert clown; his skills in the latter arena, honed nearly a half century ago at the Ringling Bros. and Barnum & Bailey Clown College, have been on display in venues ranging from Broadway theaters to "Sesame Street."
In Clov, Mr. Irwin has a vehicle for his enduring agility and wit and to display his capacity for conveying physical and emotional anguish. You can feel the character's exhaustion and desperation as the actor moves stiffly but adroitly about the stage, fetching this and that for Hamm — even as the veritable slave refuses his arrogant master's repeated requests for a dose of painkiller.
Why do these two continue to put up with each other? That's the existential rub here, and Messrs. Irwin and Thompson evince their endlessly frustrating but ineffable bond with both a nimble comic rapport and a gnawing poignance. The gravitas and charisma that Mr. Thompson has brought to a number of canonical roles is turned on its head here, so that we behold a wasted, pathetic man masquerading as a king, and the effect is at once amusing and haunting.
Mr. Grifasi, whose wonderfully expressive face has distinguished dozens of memorable performances in character roles on stage and screen, plays Nagg as a deceptively gentle, droll foil to his son's pomposity. After serving as captive audience to Hamm's storytelling, Nagg remarks, "I hope the day will come when you'll really need to have me listen to you, and need to hear my voice, any voice."
In the end, all but one of the characters in "Endgame," Nell, the most sprightly of the bunch in Ms. Johnson Chevannes's piquant portrait, is left waiting in vain — not for the realization of wishes and dreams, as they do in an even more famous Beckett play, but for all of it to be, well, finished.
"You … remain," Hamm finally says, essentially refuting Clov's opening line. Such purposeful contradictions are fundamental to Beckett's absurdist vision, and this authentically bleak, vividly entertaining production does them justice.
ELYSA GARDNER
Ms. Gardner has written about theater and music for The New York Times, The Village Voice, Town & Country, Time Out New York, Entertainment Weekly and other publications. She is a board member of the Drama Desk and has served on the jury for the Pulitzer Prize for drama twice, most recently as chair.