Broadway's 2022-23 Season Coming to a Close With Something of a Whimper 
The story of 'New York, New York,' set in the wake of World War II, has been re-imagined by librettist David Thompson and his co-writer, veteran actress Sharon Washington, as a self-conscious ode to inclusivity.
The final musical production in Broadway's 2022-23 lineup has arrived, and it's official: The season is going out not with a bang, but with an electrical fizzle — the sound of lights noisily flickering on in the humongous sign that looms above the set of "New York, New York" as the show begins, spelling out its title for any tourists who might have wandered in not knowing where they are.
Inspired by the 1977 Martin Scorcese film starring Robert DeNiro and Liza Minnelli as a sax player and singer who survey a rocky relationship while trying to make it in the Big Apple, the new show includes songs by John Kander and the late Fred Ebb, the duo responsible for darkly gleaming classics such as "Cabaret," "Chicago," and "Kiss of the Spider Woman." A few of these tunes were also featured in the movie, among them the titular anthem that became one of Sinatra's signature hits.
Yet if you're envisioning a gritty, noirish romance at this point, think again. Librettist David Thompson and his co-writer, veteran actress Sharon Washington, have re-imagined the story, set in the wake of World War II, as a self-conscious ode to inclusivity. In their strenuous efforts to celebrate the diversity and pluck that undeniably make New York City one of the greatest places on earth, they define the central couple and a bevy of other characters who join them here largely by their assorted identities; the results are seldom interesting and, for that matter, not always flattering.
Leading man Jimmy Doyle, played by rising star Colton Ryan, is a fledgling pianist of Irish stock, and his hard drinking and hot temper are cited repeatedly. Jimmy's Italian-American buddy, one Tommy Caggiano, portrayed by the appealing musical actor and agile dancer Clyde Alves, has an uncle doing 20 years on Rikers Island — a tidbit that's disclosed, incidentally, just before a hit man straight out of "The Godfather" turns up on stage. I suppose some stereotypes remain safe for comedy, at least.
There's also a Cuban immigrant couple whose son yearns to be a musician and likes to dance with his mother's scarf, much to the chagrin of his hyper-macho father. We're introduced briefly to a young woman who dreams of being "the Japanese Ginger Rogers," but get to spend more time with a middle-aged virtuoso who, while waiting for her son to return from military service, begins tutoring a shy but gifted violinist from Warsaw; Emily Skinner and Oliver Prose play the student and teacher with disarming tenderness.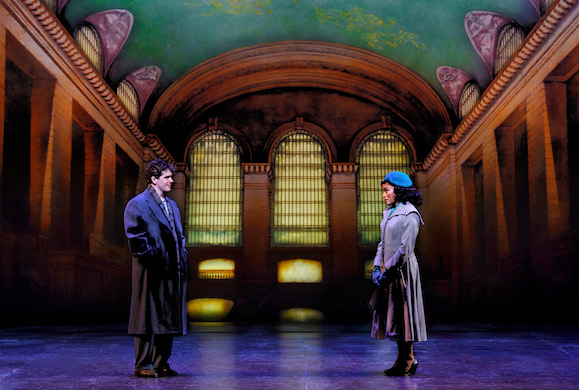 Mr. Ryan, unfortunately, enjoys less of a rapport with Anna Uzele, the beautiful but rather chilly actress cast as Jimmy's love interest, aspiring singer Francine Evans. Francine is now a Black woman, and there are recurring references to the racism she endures: She loses an early gig and nearly misses out on another, more substantial job because the powers that be want a blonde. When she defies a producer who has courted her, a pasty-faced villain with a British accent (Broadway veteran Ben Davis plays along gamely with the caricature), he barks at her, "You people are never grateful."
The talents of director and choreographer Susan Stroman, a woman who cannot help but lend humor and heart and imagination to everything she touches, are not entirely wasted, thank goodness. One exuberant production number finds Tommy leading Jimmy and a chorus of construction workers in a tap dance routine that unfolds on beams representing skyscraper scaffolding. In another, Jimmy and a few friends giddily form a band at the San Juan Supper Club, which he'll eventually turn into a hot spot called The Major Chord — the title, minus the article, is one of several new songs that Mr. Kander wrote himself.
As has been breathlessly publicized, Lin-Manuel Miranda contributed lyrics for other new tunes by the composer, among them a catchy charmer called "Gold" and the more contemplative, majestic "Light." The score also includes a few Kander and Ebb standards, such as "But the World Goes 'Round," featured in the original movie of "New York, New York," and the sparkling "A Quiet Thing," from "Flora the Red Menace." The latter should have been a lovely showcase for Mr. Ryan's fetching tenor voice, but as is often the case, he tries too hard to affect the kind of tremulous croon one might associate with singers of the musical's era.
"New York, New York" is certainly lovely to look at; Beowulf Boritt's rhapsodic but earthy scenic design summons the city's magic and mystique without reducing it to cliches. If only the show's characters were fleshed out accordingly, it might be worth spreading the news.