Gabriel Byrne Expresses His Gratitude, and for That We Can Be Thankful
The actor is back on Broadway for the first time since 2016 in a two-act play he wrote based on his memoir, 'Walking With Ghosts,' tracing his unlikely path to stardom from a working-class upbringing in Dublin.
Is it possible to not like Gabriel Byrne? In various stage and screen roles, not to mention interviews, the Irish actor has managed to combine a rugged handsomeness — somehow at once rakish and, like the name, angelic — with an ability to project sensitivity and humility.
Those assets — the humility, especially — prove very handy in the one-man show that brings Mr. Byrne back to Broadway for the first time since 2016, when he played Eugene O'Neill's dissolute patriarch James Tyrone in a revival of "Long Day's Journey Into Night." In his new outing, "Walking With Ghosts," the actor's character is, well, himself.
Written by Mr. Byrne and based on his memoir of the same title, this two-act play traces his journey from a working-class boyhood in Dublin to a career that took him from an amateur Shakespeare troupe to a gig co-starring with Richard Burton. It's the Welsh legend who warns him — after the two get soused together in Venice — of the dangers of fame, the "sweet poison" you're forced to consume "long after you've come to loathe it."
Mr. Byrne's own celebrity is not really in focus here; anyone hoping for a dissection of his best-known movie roles — or his relationship with ex-wife Ellen Barkin, for that matter — will be disappointed. Instead, we learn a great deal about the family that raised him, the local culture that informed that upbringing, and his rather unlikely path to stardom.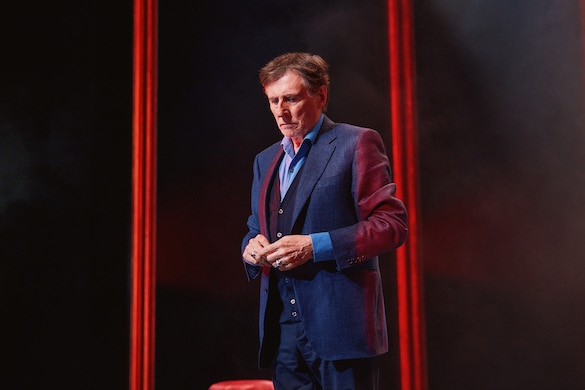 Although its source covers more ground, this adaptation of "Walking" is similarly structured, with segments representing chapters. Director Lonny Prince, a Broadway veteran who collaborated extensively with Stephen Sondheim, and scenic and lighting designer Sinéad McKenna create an atmosphere of subtle tension that accommodates the mix of sobriety and levity in the text.
Costumed by Joan O'Clery in a natty navy blazer and vest over a royal blue shirt, Mr. Byrne stands illuminated against Ms. McKenna's spare set, which fades to black between vignettes. Sinéad Diskin lends additional ambience with original music and sound, evoking everything from a Catholic school classroom to the rush of ocean waves.
If Mr. Byrne's relatively quiet, raspy voice isn't the ideal instrument to carry a show that runs more than two hours, he's a charming raconteur, recounting his youthful foibles with equal parts wistfulness and dry wit. There are occasions when he tries rather too hard to wax lyrical; recalling an especially idyllic carnival outing, he quips that aiming to prolong the day would have been "like trying to empty the Irish Sea with a fork." Not all Irishmen, alas, are poets.
There are darker, less romantic recollections, among them a disturbing account of the twisted priest who robbed him of any desire to enter that vocation. We hear about Mr. Byrne's battle with alcoholism, and about his beloved late sister's struggle with mental illness.
What comes through most, though, is a sense of gratitude — to Mr. Byrne's parents and other relatives, and to others who made lasting impressions, from the childhood friend lost in a tragic accident to the jovial journeyman actor who became a mentor of sorts.
Remembering the grandmother who "introduced me to the world of imagination" by taking him to the movies for the first time, Mr. Byrne quotes an observation that stuck with him. "She said: 'Isn't it strange when you look at these old films and you think that all the people you see on the screen are dead. They're just ghosts now.'"
In its best moments, "Walking with Ghosts" has a similar effect, leaving viewers entertained and a little haunted — and perhaps just a bit more appreciative of the wonder that life and art can bring.