'Grey House' Is That Rarest of Birds in Commercial Theater, a Psychological Thriller
The scenario that unfolds in this play by Levi Holloway, now having its Broadway premiere, may initially remind you of the Stephen King novel 'Misery.'
Just a few tense moments into "Grey House," a married man and woman crash their car near an isolated cabin in the mountains. They wander in, seeing no one at first. They spot a broken phone cord and a refrigerator containing small amounts of unspoiled food. The wind howls. "I've seen this movie before," the man, who has shattered his ankle, says to his wife. He hasn't, though — and neither have you.
The scenario that unfolds in this play by Levi Holloway, now having its Broadway premiere, may initially remind you of the Stephen King novel "Misery," which was adapted for the stage a few years back. In that yarn, more famously the basis of a hit film, another car accident left another injured man stranded in a remote farmhouse, at the mercy of its sole resident, a woman who turned out to be a profoundly disturbed fan of the visitor's writing.
The dingy, creaky, sprawling abode where the "Grey House" traveling couple finds itself — designed for optimum creepiness by Broadway veteran Scott Pask, with Tom Gibbons providing alternately ominous and jarring sound — is more densely populated, with a maternal figure named Raleigh holding court over a posse of girls and very young women. And the curious, at times feral, behavior of her charges — ritualistic singing and stomping, running up and down an eerily lit set of stairs leading to the basement — can raise questions even more unsettling than those posed by the "Misery" maniac.
There's also a single male occupant, referred to simply as The Boy, though he has gone by an assortment of other names, we're told. Played by a winsome Eamon Patrick O'Connell, he is clearly pre-pubescent; that's a hugely relevant factor here, since ultimately, "Grey House" is concerned with mankind's capacity for evil, with a decided emphasis on "man."
This psychological thriller, that rarest of birds in commercial theater, also focuses on humanity's opposite pole, the nurturing instinct more commonly associated with women. If this contrast seems a bit quaint — even conservative, one might say — Mr. Holloway and his accomplished director, Joe Mantello, have channeled it into a distinctly post-#MeToo exercise, and a decidedly unsettling one.
Mr. Mantello's previous projects have included notable studies of female camaraderie and male malevolence ranging from the hit musical "Wicked" to "Blackbird," David Harrower's searing account of a middle-aged man's reunion with a young woman he sexually abused when she was 12. For Mr. Holloway's play, he has enlisted an ensemble of vibrant young actors, among them "Blackbird" alumna Sophia Anne Caruso, last seen on Broadway as a goth teenager who sees ghosts and bonds with a mischievous spirit in a musical adaptation of "Beetlejuice."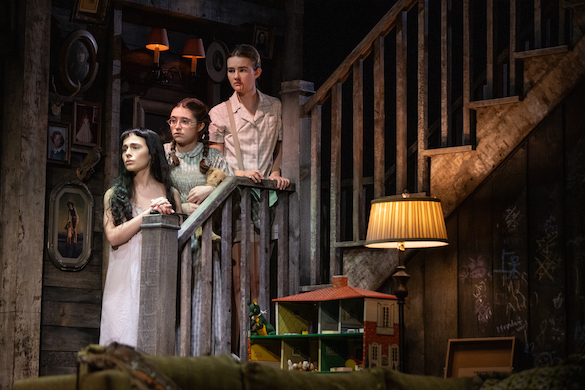 It would be impossible to fully address parallels between that character and the one Ms. Caruso plays in "Grey House" without dropping spoilers. Suffice it to say that the latter, Marlow, the eldest of the younger residents, is an unnerving creature, cold and blunt — the alpha figure among the girls, who tellingly wear night dresses representing different eras, designed by Rudy Mance — and the actress captures these qualities with a chilling matter-of-factness.
Marlow is no match, though, for Raleigh, particularly as the older woman is embodied by the great Laurie Metcalf. Mr. Holloway has made this mysterious caretaker both the play's emotional center and the anchor of its bleak comedy, and predictably, Ms. Metcalf excels in both aspects, providing bone-dry laughs in one moment and then breaking our hearts in the next, even as Raleigh intimidates the other characters.
Tatiana Maslany and Paul Sparks are adroit in charting the visiting couple's growing discomfort and suspicion, and the impact of the harrowing revelation that eventually awaits them. But it's the regular denizens of "Grey House" who haunt us most, from a graceful but troubled Deaf girl played by "Wonderstruck" and "A Quiet Place" star Millicent Simmonds, to a sweetly precocious adolescent simply called A1656 (a charming Alyssa Emily Marvin) for reasons that will be disclosed in shattering detail near the end.
You may well have solved a fundamental mystery locked inside "Grey House" long before then. Even so, the play, and Mr. Mantello's witty, spooky production, will leave you with lingering, vexing questions to savor after the curtain falls.