Helen Mirra Coolly and Keenly Contemplates Ecological Disaster, and Other Shows Capturing the Art World's Attention
Jeffrey Gibson turns the ebullience up to eleven, and new work by Charline von Heyl asks how much visual pleasure can be crammed into one show.
Helen Mirra: 'Green Holotrope'
Peter Freeman Inc., 140 Grand Street, New York, NY
Until October 28, 2023
Charline von Heyl: 'New Work'
Petzel Gallery, 520 West 25th Street, New York, NY
Until October 28, 2023
Jeffrey Gibson: 'Ancestral Superbloom'
Sikkema Jenkins, 530 West 22nd Street, New York, NY
Until October 21, 2023
The art season has launched and proceeds at a gallop, with no sign of relenting. Though it's impossible to visit all openings in Manhattan's 1,500-odd galleries, three standouts are catching the art world's attention — until next Thursday, that is.
Helen Mirra's exacting show revisits work from earlier in her career, immersing viewers in her own meticulous brand of conceptual quietude. A creator of text-based minimalist pieces that rely on hand-woven fabrics and handicraft, she never shrinks from the use of negative space or modest scale. Rather, she draws the viewer into a more holistic sense of the rooms her works inhabit, and the large airy space of Peter Freeman is no exception.
Ms. Mirra is a deep ecologist whose spare, quiet, sensibility is expressed in every aesthetic choice she makes. She favors a muted palette of linens, taupe and olives, with an occasional dash of vivid color. One text-based piece parses a walk at her native West Marin, California, recounted on a neatly printed ribbon that winds along a taupe background. It reads like an experimental film, and one suddenly wonders what a walk with her might be like.
The artist's fundamental concern is environmental, or rather, how we approach and care for environments. "Sky-Wreck," which dominates the large back room of the gallery, consists of hand woven and dyed triangular sections of indigo cloth. It is laid out on the floor like a collapsed geodesic dome, a flat sculptural installation that dominates the floor with organic precision.
It's a parable of hope and despair: Buckminster Fuller's techno-utopian vision of "spaceship earth" in collision with evidence of natural collapse at every turn. Ms. Mirra's response is to look keenly and coolly, at her own work and the world it inhabits.
* * *
How much visual pleasure can be crammed into one show? Charline von Heyl, who studied with Jorg Immendorf, carries on the eclectic tradition of German neo-expressionism, hitting a new high with her current show. Her playful sense of color, juxtaposition, and above all rhythm seems entirely set on bathing eyeballs in as much visual interest as is humanly possible.
This has been Ms. Heyl's stated purpose as of late. Her earlier work sought to touch on a deeper layer of irony and criticism, but now she is content to make paintings that are self-contained universes of color, texture, pattern, paintings that "engage the viewer of their own terms," as she said recently in an interview.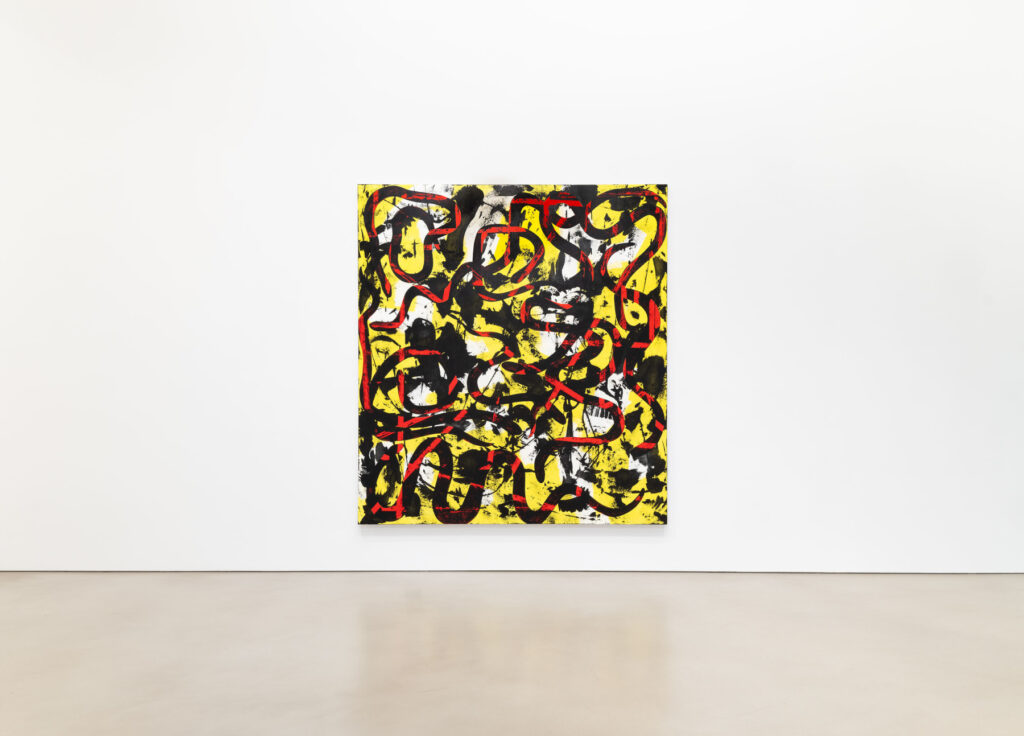 Not that Ms. Heyl's canvases aren't crackling with ideas. Paradoxes, references, visual puzzles and textural sleights of hand simmer in each canvas, Keeping the eye nimble and the mind guessing. Her "Blue Guitar" is an unutterably pleasing nod towards early cubism, with its vivid reds and blues, while "Viper" is a dense tangle of snake-like forms in Vermillion, yellow and black. Like all sure-handed artists, it's impossible to exactly pinpoint why Ms. Heyl's canvases hit so precisely while others' fail, but hit she does, in canvas after canvas, like a practiced Zen archer.
* * *
At Sikkema Jenkins, Jeffrey Gibson turns the ebullience up to eleven with a show of installation, painting, and sculpture. Of Cherokee descent and a member of the Mississippi Band of Choctaw Indians, Mr. Gibson is known for examining traditional indigenous motifs with a contemporary and queer eye, and this show is no exception.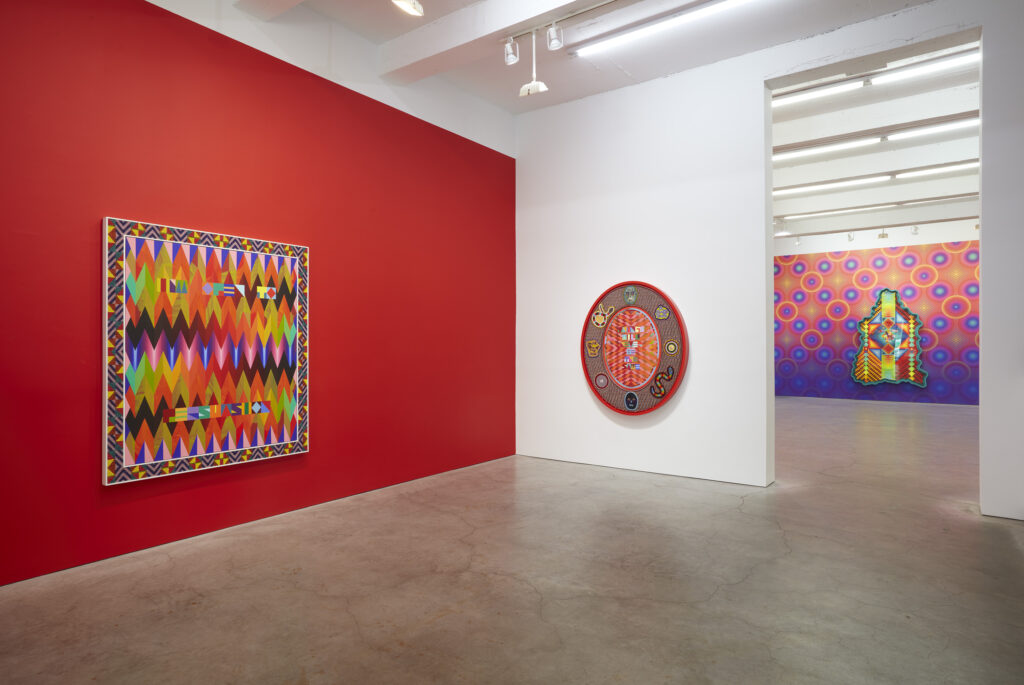 One of Mr. Gibson's traditionally beaded punching bags — an ironic symbol that calls to mind both resistance and victimization — starts the show. They are followed by eye-popping work that updates traditional native forms — there are medicine wheels and canvases shaped like animal skins — into contemporary abstraction. The middle space is dominated by a wall festooned with circles and geometric matrixes in a hallucinatory pattern that suggests indigenous Op Art.
Mr. Gibson is keenly aware of the irreverent — and ad hoc — mix and match. One sculpture features a chieftain in full headdress, proportioned like a bobble-headed doll and shiny as a red Christmas ornament, flanked by two adorable cartoon puppies. The commercialization and sentimentalization of Native American culture is a long-standing issue. Mr. Gibson suggests that his nose-thumbing hybridity is a fun way to address it.