It Is Again Time for 'Drinking in America'
However heartbreaking or repellent, the wide-ranging male voices in Eric Bogosian's 1986 play, now being revived off-Broadway, demand to be heard.
Back in the halcyon days of 1986, before "toxic masculinity" had been formally identified as a virulent social disease and a talking point for cable news pundits, the then-rising playwright and performer Eric Bogosian unleashed "Drinking in America," a one-act piece in which he played more than a dozen men — each captured under the influence of an intoxicant or two. Or several.
Alcohol figures prominently in the play, now being revived off-Broadway, with cocaine, heroin, and Quaaludes in key supporting roles. Yet Mr. Bogosian's characters, who are as diverse in their lifestyle choices as they are in socio-economic status, are just as likely to be drunk on ambition, desperation, or even boredom. There's the traveling salesman, pathetic in his attempts to impress an escort presumably half his age at most; or the film agent snorting and guzzling various substances as he alternately throws fits and shuts down pitches.
The new production of "Drinking" stars Andre Royo, best known for playing a junkie who becomes a police informant while battling his addiction on the memorable crime series "The Wire." A few of the play's characters allow Mr. Royo, under Mark Armstrong's sensitive direction, to draw from a similar well; a couple of them appear to be homeless, while another sits alone in his one-room apartment with a needle in his arm, assuring us he's fine.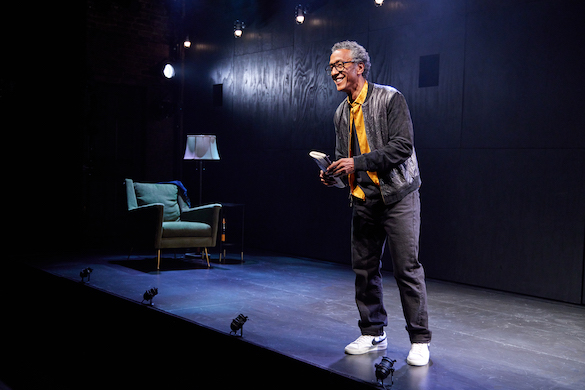 Some of the most compelling moments in this "Drinking," though, focus on superficially successful guys. The heroin addict's scene is preceded by one in which a man boasts of his perfect health, great job, happy marriage, smart and popular daughter, and secure pension fund. Mr. Royo invests the character with a chilling complacency — he acknowledges "all the trouble there is in the world," briefly, but doesn't seem bothered by it — that makes him a perfect foil for the addict, who only sees less troubled people when he looks around, but insists he doesn't need help. 
Later, we meet a sort of evangelist with an obviously substantial following. Nattily dressed (Sarita Fellows's basic costume design allows for quick, simple changes), clear-spoken, and charismatic, he assails the "unholy subway criminals," "Jewish media personalities," and "homosexual politicians" evincing Satan's growing influence, urging his audience to "make America, and hopefully the rest of the world … free of sin … again."
If such lines suggest we're still grappling with the kind of tensions and rhetoric that inspired "Drinking," the play also seems somewhat gentler than it likely did initially. In its review of the original production — which I didn't see — the New York Times described the work as a "breakneck, hair-raising comic tour through the contemporary American male psyche." To a modern reader, that might evoke portraits of flagrant misogyny; but while Mr. Bogosian's characters could hardly be considered enlightened by today's standards — one crudely directs a woman to show off her various assets — sexism is not a defining flaw.
In fact, there is palpable sympathy in most of these portraits, a quality emphasized, I suspect, by Messrs. Armstrong and Royo. Mr. Bogosian's approach as a writer and a personality has not characteristically been a delicate one, and there are passages in "Drinking" — which can indeed be genuinely, darkly funny — that could, I'm sure, be more acerbic or abrasive in another actor's hands. Notably, the fourth wall is punctured as soon as Mr. Royo appears onstage, seeming relaxed and genial at first.   
That's not to say the actor and his director have robbed the play of its bite. There are harrowing passages here, but they tend to sneak up on you, like the account of one young man's drug-fueled joyride that turns into a journey of apathetic destruction; or the appeal of a beggar who starts off lying down, singing, "We Are the World," and ends up asking a passer-by to "put me in the trash can and flush it."  
Such depths of despair seem, sadly, just as credible as they did 37 years ago, and no easy solutions have emerged since then. At a time when more communication can somehow produce less empathy — particularly, let's face it, for men — the voices in "Drinking in America," however heartbreaking or repellent, demand to be heard.