Jocelyn Bioh Arrives on Broadway as a Playwright, With 'Jaja's African Hair Braiding'
After appearing as an actress in 2014's 'The Curious Incident of the Dog in the Night-Time,' she turns her attention to the place she was born and raised: upper Manhattan.
In Jocelyn Bioh's breakthrough work as a playwright, "School Girls; Or, the African Mean Girls Play," she drew savvily on the Western obsession with catty teenagers while focusing on students at a boarding school in Ghana, where Ms. Bioh's parents lived before emigrating in the 1960s. The comedy won wide acclaim in an off-Broadway staging and has since received more than 50 regional productions; it had its premiere at London last June.
With "Jaja's African Hair Braiding," Ms. Bioh's first Broadway entry as a writer — she has previously appeared there as an actress, in 2014's "The Curious Incident of the Dog in the Night-Time" — she turns her attention to the place she was born and raised: upper Manhattan. The new piece is set at the titular shop in Harlem, inspired by the establishments where she has been getting her own hair braided since childhood. It's dedicated, as Ms. Bioh writes in the program, to "each and every person who enters the shop."
The women who work at Jaja's are all immigrants from Africa; Jaja's daughter, Marie, is the only one who speaks without an accent, having moved to America with her mother from Senegal when she was 4. Now 18, Marie recently graduated at the top of her class from a tony private school but is still using a cousin's papers and her name in public, as Jaja has yet to secure a green card.
We don't meet the 40-something Jaja until relatively late in the one-act play, but we learn of her scheme to resolve this dilemma through marriage. Her employees are skeptical — particularly Bea, a native Ghanaian, who is roughly the same age and expresses some resentment toward her more successful friend. Bea is more openly hostile toward a younger co-worker, the bubbly and hyper-efficient Ndidi, who's from Nigeria, and whom Bea accuses of stealing her clients.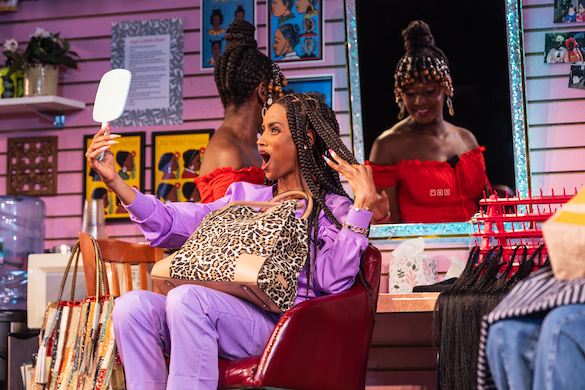 Then there are Miriam — a gentler soul, but carrying fire within her — who had to leave behind a young daughter in Sierra Leone, and the Senegalese Aminata, Bea's partner in gossip but seemingly more contented, at least outside what's plainly a stormy marriage. Under Whitney White's animated, affectionate direction, these characters all sparkle like the colored lights strung alongside various other doodads through David Zinn's scrumptiously cluttered set.
Zenzi Williams's weary but formidable Bea, Nana Mensah's ravishing Aminata, and Brittany Adebumola's winsome, eventually feisty Miriam are standouts, and Lakisha May turns in three hilarious performances as customers with big and not always winning personalities. Yet the cast members all skillfully evince the female camaraderie and conflict that Ms. Bioh paints with such giddy wit, as well as the struggles faced by these women, who literally work until their fingers bleed to get by in a country that affords them both new opportunities and fresh obstacles.
Men figure into "Jaja's" as well: A winning Michael Oloyede juggles the roles of three quirky, good-natured street salesmen with that of Aminata's husband, a smooth-talking ne'er-do-well. We also hear about the musician who, before Miriam left her homeland, wooed her away from a listless husband who wouldn't get a job.
The play's most egregious villain is someone else who never appears onstage: a white man identified as Steven Jacobson, a name that clearly connotes another historically oppressed minority group. It's a group that has also been targeted by white supremacists, that has supported social justice movements in large numbers, and that has nonetheless been pitted against Black Americans by bigots who have no use for either. It could be that Ms. Bioh is exposing some real-life creep; if not, the decision to use this full name — though the surname is only mentioned once — seems curious, and I found it a bit unsettling.
Then again, "Jaja's" shows a young playwright whose sense of the world is, like her considerable talent, still budding. Like many others, I look forward to watching it flower fully.