Sadly, Musical Inspired by Lynching in 1915 of a Jewish Man Is Poignant Even Today
Twenty-five years after its Broadway bow, 'Parade' returns with a powerhouse production.
It has been more than a century since Leo Frank, a Jewish man raised in Brooklyn, was lynched in the state of Georgia. Any doubts that the hate that doomed him festers throughout the country (and the world) to this day was put to rest last month, though, when director Michael Arden's soul-stirring new production of "Parade," the 1998 musical inspired by the case, held its first preview.
Roughly a dozen protesters, some carrying a sign or fliers tying them to neo-Nazi movements, turned up at the Bernard B. Jacobs Theatre that evening to condemn a show that, as one reportedly claimed, encouraged its audience to "worship a pedophile." For anyone not familiar with Frank's story, he was convicted in 1913 of murdering Mary Phagan, a 13-year-old factory worker he supervised at the National Pencil Company.
After a trial heavily tainted by anti-Semitism, Frank was sentenced to death, a decision that generated nationwide controversy and led to the formation of the Anti-Defamation League. When the punishment was commuted to life in prison, a local mob in Marietta resolved to mete out its own justice.
If none of this sounds like natural fodder for a musical, "Parade" was conceived by no less an authority than the late, great Hal Prince — its original director — along with librettist Alfred Uhry, a Pulitzer Prize and Oscar winner, and Jason Robert Brown, who wrote its sweeping score. Mr. Arden's revival, which earned rave reviews after its premiere at New York City Center last year, captures all the pathos and transcendent humanity these creators culled from the dark history represented here.
For this Broadway production, Mr, Arden and his design team — notably Dane Laffrey, Heather Gilbert, and Sven Ortel, the scenic, lighting, and projection designers, respectively — have summoned that history not only in its obvious bleakness but in its ironic, disturbing allure. In the show's prologue, set in 1862, a young Confederate soldier bids his love farewell to fight for "a way of life that's pure … in the old red hills of home."
Moments later, 50 years have passed; the Civil War is long lost, but the older actor now representing this character, a veteran, roams Mr. Laffrey's starkly majestic set, clinging to this nostalgia and the racist, xenophobic views contained within it. He's joined by a cheerful crowd as the scene shifts to Atlanta from Marietta, and white men, women, and children prepare to celebrate Memorial Day, skipping about and waving Confederate flags.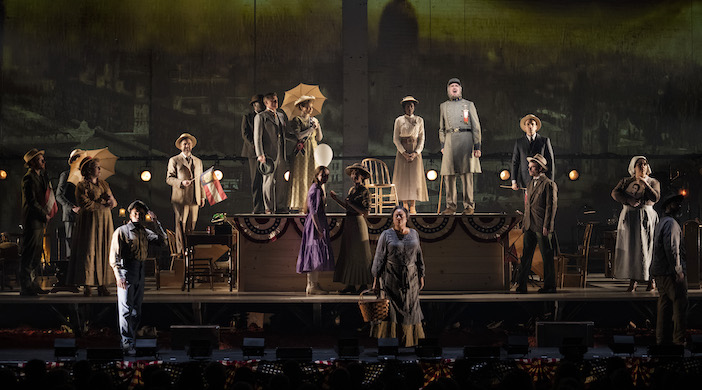 Black actors are also present on stage but often segregated, as are Ben Platt, the Tony Award-winning "Dear Evan Hansen" star cast as Leo, and Micaela Diamond, who plays his wife, Lucille, a Jewish woman and proud Southerner. The bigotry that has made Jewish and Black Americans natural allies — and sometimes pitted the groups against each other — is acknowledged in the staging, and the drama is enhanced by projected archival footage, from screaming newspaper headlines to sepia photos of the real-life players in Frank's ordeal.
They include the ambitious and corrupt prosecuting attorney Huey Norton, restored to life in Paul Alexander Nolan's artfully shrill, unctuous performance; the populist, racist publisher and politician Tom Watson, made creepily convincing by Manoel Felciano; and Governor John M. Slaton, who is presented as a complex and conscience-stricken figure, and is played here with both the requisite smoothness and a wistful edge by Sean Allan Krill.
Alex Joseph Grayson is equally compelling as Jim Conley, the janitor whose testimony against Frank was considered crucial, and who many have maintained was the actual perpetrator. An agile actor and robust, soulful singer, Mr. Grayson manages to convey a cool opportunism born of Jim's own hard experience while suggesting flashes of a haunted conscience and, near the end, a dash of madness.
The entire production is beautifully sung, particularly by its leads; Ms. Diamond's voice has a tremulous, liquid quality that makes her an ideal partner for Mr. Platt, and both bring wrenching authenticity to the Franks's evolution from a young couple still struggling to reconcile their differences to true partners who realize — too late, sadly — how much they treasure and rely on each other.
It's a credit both to the musical's original authors and to Mr. Arden and his cast and other collaborators that "Parade" retains its power to uplift even while recounting such mortifying events. The show is a testament to the best and worst that people are capable of.
Correction: 1915 was the year Leo Frank was lynched. An earlier version referenced an incorrect year.