Relax for Three Hours and Let David Lynch Play With Your Mind
A death sequence on a seedy LA street is one of the most debased and yet most human scenes Lynch has ever filmed.
For the past 10 years or so, algorithms have played a major role in the average consumer's decisions about entertainment. While seemingly endless content is available, very little of it rustles the status quo.
It's easy to forget that a challenging work of art can slap us upside the head or gently tickle us out of our confident stupor with the realization that life is far stranger than the streaming services will ever admit.
Re-watching director David Lynch's "Inland Empire," which begins a week-long revival on Friday at the IFC Center with a remastered version, I was positively elated at how "difficult" it was, how it uses visual and audio obfuscation to immediately place the viewer in a world that will not play by the rules.
I first saw the movie in 2006, also at the IFC Center, and my opinion of the three-hour "Inland Empire" was primarily one of frustration. This time, though, I was able to give in, allowing its charms, its mysteries, its seemingly unrelated asides, the floating bits of humor, the grainy footage, and even the frustrations to envelop me. It's the kind of experience where a suspension of disbelief is closely tied to an active infusion of imagination on the viewer's part.
Cue the prologue, which involves in part an odd TV sitcom featuring rabbit actors wearing human clothing. Eventually, the main thrust of the story gets going as Laura Dern's character, an actress named Nikki Grace, secures a lead role in a new movie and "Inland Empire" settles into a kind of droll satire on Hollywood, complete with a loquacious director (Jeremy Irons), a bad boy lead actor (Justin Theroux), and a cheesy script (titled "On High in Blue Tomorrows").
To parse out what happens next is difficult because Mr. Lynch soon starts to scramble the order of scenes and the logic of time and place. One thing is clear: Ms. Dern's character begins to behave like the character she's playing, a married woman having an affair with a married man.
After a somewhat straightforward first hour, the next hour is filled with disturbing interludes, such as an image of a painted harlequin that transitions into a short scene of Ms. Dern walking toward the camera lens with a frightening face. Could this be Mr. Lynch making a statement about how acting is a form of psychosis?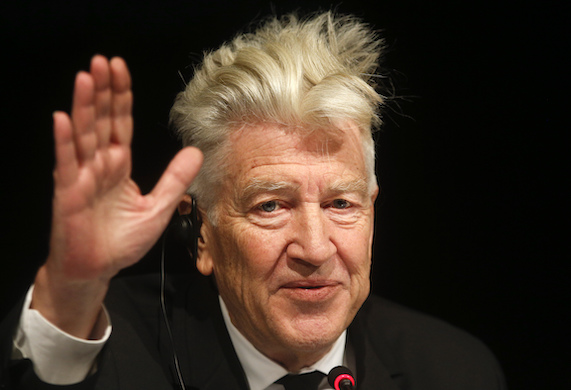 On a parallel wavelength to the "actress" storyline are scenes hinting at human trafficking, drugs, and the death of a child and subsequent grief, with still others showing domestic abuse and bloody violence.
Then the masterful third hour begins, which culminates in a death sequence on a seedy LA street that is one of the most debased and yet most human scenes Mr. Lynch has ever filmed. The force of this scene may have the viewer believing that "Inland Empire" is over, as the camera conventionally backs away. But an ominous craned camera creeps into the shot and we realize that this is only the end of the movie-within-a-movie.
Much has been written since its release about Mr. Lynch's use of rudimentary digital cameras to film "Inland Empire." Even though it has been re-mastered, I still wished it looked better: that close-ups weren't so unstable, that darkened halls and stairwells were inky instead of fuzzy, that depth-of-field wasn't so flat.
There's no doubt, though, that despite the inherent limitations with picture quality (and their contribution to the movie's themes), he still manages to make some indelible imagery.
Then there's the music, an element so important to the seductive spell Mr. Lynch's work casts. Forgoing his usual musical collaborator, Angelo Badalamenti, Mr. Lynch composed a large portion of the film's gorgeous, eerie music himself, with the occasional classical and pop selection included as well.
There's much more to say — about Ms. Dern's majestically mercurial performance, about the sad girl who seems to be watching on a TV what we the viewers are watching, about the actual ending of the movie — but it seems words will never get to the heart of what Mr. Lynch does with moving pictures and sound.
"Inland Empire" may be insular and cogent to Mr. Lynch alone, but ultimately the meaning of his films isn't in understanding what we just watched — it's more about pushing viewers into different headspaces than when they started watching. He's always been up to that challenge.