Reworked for Today's Attitudes, 'Some Like It Hot' Sizzles on Stage
By acknowledging shifts in the zeitgeist, director/choreographer Casey Nicholaw and team have made their stage variation of Billy Wilder's film fresh, clever, and briskly entertaining.
For every dozen or so musical-theater adaptations of beloved films that leave you wondering what on earth the producers were thinking — "Bonzo box office" is usually the answer — one will come along that at least makes some sense in theory and practice.
Billy Wilder's comedy classic "Some Like It Hot" may not suggest such a ripe prospect. For starters, it's been more than 60 years since this caper — starring Tony Curtis and Jack Lemmon as musicians who disguise themselves as women to evade mobsters in Prohibition-era Chicago, and Marilyn Monroe as the singer and ukulele player one of them falls for — first tickled audiences. Attitudes about sex and gender have changed substantially over that time, and exponentially in recent years.
Yet it's precisely by acknowledging shifts in the zeitgeist that librettists Matthew López and Amber Ruffin, lyricists Scott Wittman and Marc Shaiman, and director/choreographer Casey Nicholaw have made their stage variation of Wilder's film fresh, clever, and briskly entertaining, all in spite of its inherent self-consciousness.
Race also figures prominently in this "Some Like It Hot": Both Monroe's character, the unlucky-in-love beauty Sugar Kane, and Lemmon's, a double bass player named Jerry (or Daphne, in his drag alter ego) are Black here, and the discrimination they've faced is communicated both in punchlines and in more sober, pensive touches.
In one of the latter, a yearning ballad called "At the Old Majestic Nickel Matinee," Amber, played by a sweetly plucky Adrianna Hicks, whose robust singing voice can have the texture of velvet or gleaming brass, recalls sitting in a segregated section of her local cinema as a girl, imagining "that it was me up there/But with Mary Pickford playing my maid."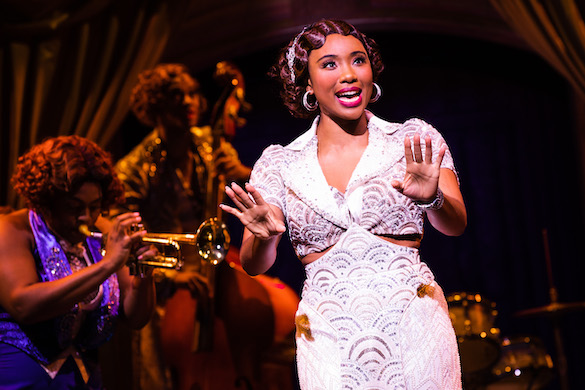 Mr. López, whose Tony Award-winning play "The Inheritance" explored the impact of AIDS on different generations of gay men, and Ms. Ruffin, a comedy writer known for her work with Seth Meyers and on her own late-night talk show, more often sprinkle the social commentary with heaping spoonfuls of daft, frequently deft humor, all of it enhanced by the exuberant delivery of a stellar cast.
Christian Borle, one of the most astute and delightful comedic actors working in musical theater — he also co-wrote additional material for the book, with film and TV producer Joe Farrell — has a fine vehicle in the weaselly but well-meaning Joe. Plus, he has an even better one in Josephina, the ironically demure saxophone player he becomes upon donning a blonde wig and a series of frocks. (The scrumptiously slick, colorful costumes and sets are by Gregg Barnes and Scott Pask, respectively.)
J. Harrison Ghee proves a worthy partner as Jerry/Daphne, bringing razor-sharp timing to both Joe's sensible male foil and the woman he embraces, with unexpected relish, as his new persona. (Spoiler alert: Those pronouns might, in modern parlance, require adjusting by the end.) NaTasha Yvette Williams digs just as adroitly into the role of Sweet Sue, the feisty bandleader who employs the disguised duo but can't help thinking something is off with Josephine. When Mr. Borle's character chirps, "I'm a girl, I'm a girl," Sue responds, "Not at your age, honey."
Mr. Shaiman, also the composer, and Mr. Wittman — whose notable credits as a team include another irreverent screen-to-stage charmer, "Hairspray" — offer the performers an assortment of juicy, jazzy trifles befitting the period and the vibe. "Let's Be Bad," a number they originally introduced in the TV series "Smash," could be an homage to Cole Porter's "Let's Misbehave."
The production's most valuable player is Mr. Nicholaw, whose affinity for gleeful musical-comedy hijinks has benefited hits such as "The Book of Mormon," "Mean Girls," and "The Prom." In addition to keeping the performances buoyant, he furnishes a string of exhilarating production numbers, with dance routines as crisp and sparkling as champagne cocktails.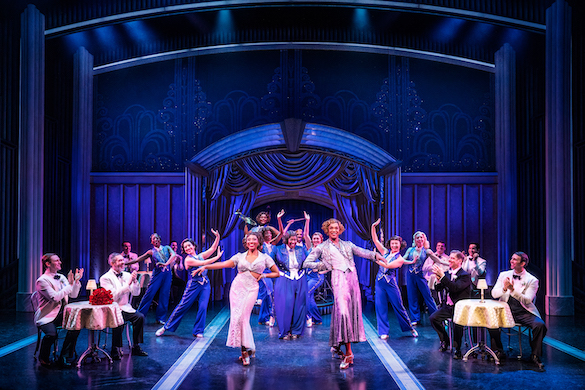 This show's climax, in fact, is a dazzling chase scene in which the full company — including veteran actors Mark Lotito and Adam Heller, both divine as, respectively, a Mafia boss and the federal agent pursuing him — takes part. "Lots of doors slamming, double crosses and hidden disguises," the stage directions read, but even that won't prepare you for the parade of giddy, masterfully controlled chaos.
By delivering its pointed messages with such virtuosity and sheer spunk, "Some Like It Hot" manages to burn more brightly than most musicals of its kind.