'Rustin' Offers an Essential History Lesson — on Race and More
Portraying pivotal years in the life of gay civil rights activist Bayard Rustin, played by Colman Domingo, the movie, for the most part, plays it safe.
A few well-known photographs from the civil rights era are reconstructed at the start of the new Netflix movie "Rustin," such as the moment when Black students sat at a whites-only lunch counter in Mississippi. Opening on a closeup of a dignified young woman, we then see ketchup pouring down onto her hair and face.
Another scene shows little Ruby Bridges as she's escorted by marshals to a New Orleans elementary school, an image also recreated in a famous Norman Rockwell painting. Director George Wolfe has the girl skipping, oblivious to the tumult around her, and this inspired tweak says so much about children's hopefulness and resilience and the power of imagination.
If only the entire movie were as inspired as this choice. Portraying pivotal years in the life of gay civil rights activist Bayard Rustin (Colman Domingo), the movie, for the most part, plays it safe. At one point, after Rustin comes up with the idea of marching on Washington, he deems his young acolytes "angelic troublemakers," and the movie could be said to endorse the same view of its subject: that he was an impassioned altruist who did no wrong.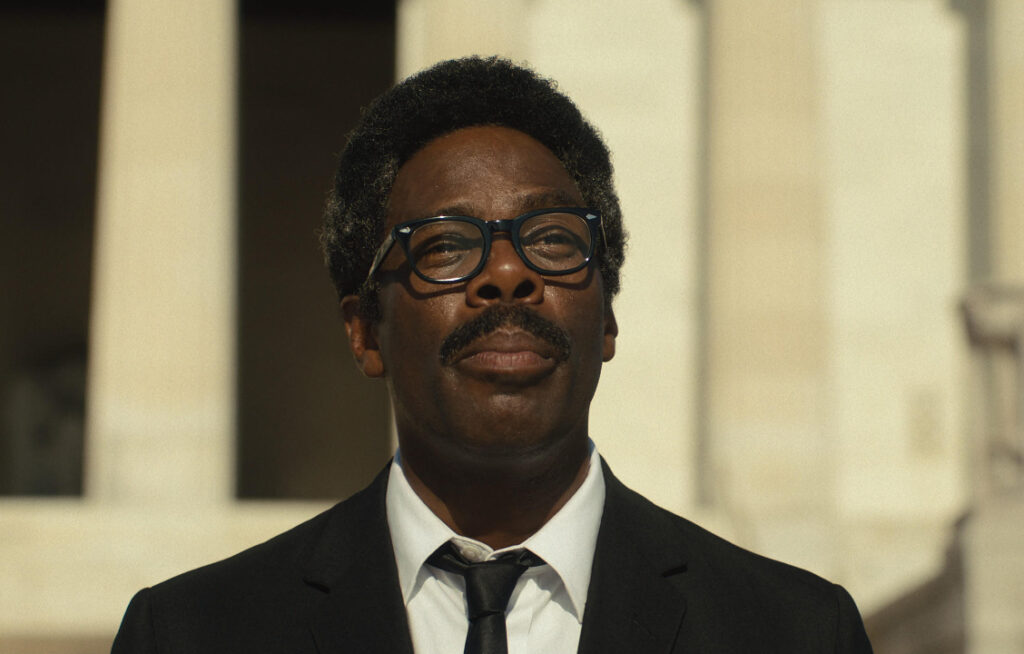 Efforts to complicate this interpretation occasionally appear, yet the movie doesn't explore them with any real commitment. What it does focus on is his gargantuan endeavor to unite various factions and engineer what was the biggest civil rights gathering of its time. No mean feat, the 1963 March on Washington was attended by 250,000 protesters and, among other protests and activity, led the way for the passage of the Civil Rights Act the next year.
In the first scenes involving Rustin, we see him try to convince Martin Luther King (Aml Ameen), with whom he had worked in Alabama, to lead a disruption of the 1960 Democratic convention. His attempt fails, though, after Congressman Adam Clayton Powell, Jr., threatens to go to the press with the rumor that Rustin and King are intimate.
Quickly cutting to 1963, Rustin attends a party where young Black men discuss more confrontational, even violent opposition to segregation and white aggression. Back at his apartment, he comes up with the idea for the Washington march. This is portrayed via vague late-night scribblings and drawings, but the scene makes for a poor dramatization of a momentous idea, with the filmmakers unable to conceive of how he might have envisioned such a march beyond a fleeting mention of Gandhi walking to the sea during his Salt March.
Most of the movie's brisk runtime depicts the planning of the event and the compromises made with various groups and leaders. During a galvanizing moment early on, Rustin encourages his young cohorts to take an active part in crafting the protest and its particulars. We also follow him as he convinces one skeptic after another to participate, including the towering labor leader A. Philip Randolph. The movie informs viewers of the various fundraising, organizing, persuading, in-fighting, and accommodating that was done, though all the meetings and montages don't exactly give the film a structure.
These scenes of both high-level decision-making and grassroots efforts are intertwined with ones that address Rustin's homosexuality, sometimes directly aligning the Black civil rights movement with gay liberation. In one especially effective scene, he points out to a fellow Black activist that they're speaking at a bar whose patrons are predominately gay, and his closeted friend looks around the establishment in astonishment.
This character, who becomes Rustin's lover, is a composite developed by screenwriters Julian Breece and Dustin Lance Black to reflect the leader's affairs with men who were either married to women or too fearful to live openly. Activist Tom Kahn, who was one of his real lovers and much younger, is also featured in the movie, but the filmmakers don't delve much into their age difference or interracial relationship.
From the start, Mr. Colman as Rustin generates audience affinity and sympathy through ways subtle and plain. The actor elevates his speaking voice to one higher than his own and even brandishes a slight lisp, yet his emotional shifts outline how the multi-faceted man was pulled in multiple directions by competing impulses and responsibilities.
Familiar faces from Broadway and television pop up, too, such as six-time Tony Award winner Audra McDonald, CCH Pounder, and Glynn Turman. The only casting choice that's dodgy and distracting is Chris Rock as NAACP head Roy Wilkins.
Needless to say, Rustin pulls off the march, and the movie ends with a portion of King's "I Have a Dream" speech. Mr. Wolfe barely conjures up the scale and energy of the event — his recreation of the stage and other elements is too orderly and minimal to mirror the cluttered, charged atmosphere — but he intersperses actual footage, some of it colorized, to enhance this sequence.
Produced by President Obama's production company, "Rustin" feels like an essential if dutiful history lesson, one that hardly begins to scratch the surface of the issues it brings up and the man it honors. Still, the film "speaks truth to power," a phrase Rustin coined, when it highlights how protest and civil disobedience were often the only means available to minorities to alter policy and laws — and to change people's minds.