Seemingly Neither Organic Nor Man-Made, Mark Rothko's Paintings on Paper Resonate as a Kind of Communion
This is your chance to see Rothko's paintings on paper as he intended them — many of them are exhibited without the protective intercession of museum glass between your eyes and his paint.
Mark Rothko: Paintings on Paper
National Gallery, Constitution Avenue, Washington, D.C.
November 19, 2023 – March 31, 2024
In "Mark Rothko: Paintings on Paper" the National Gallery has assembled more than 100 works by one of America's greatest artists from a portion of his oeuvre that has, until now, been generally passed over by specialists and the public alike. This alone should be sufficient impetus to see the exhibition. The National Gallery's meticulous installation, luxe exhibition catalog, and robust series of complementary programs — including a guided meditation on January 6 — provides an appropriately gilded frame for this groundbreaking show.
And speaking of frames, this is your chance to see Rothko's paintings on paper as he intended them — many of them are exhibited without the protective intercession of museum glass between your eyes and his paint. Hats off to the curator for pushing this through — and to whoever among the powers-that-be who okayed the inevitable hike in insurance costs.
When discussing Rothko's paintings, you immediately bump into two roadblocks. The first is the artist's express preference for silence in response to his work. Weeping before his paintings was tolerated; explication was not. For the last 30 odd years of his career, Rothko even eschewed giving his paintings titles — in this he was occasionally overruled by dealers. Rothko offered no interpretive framework and discouraged others from proffering their own ideas about the meaning behind his works.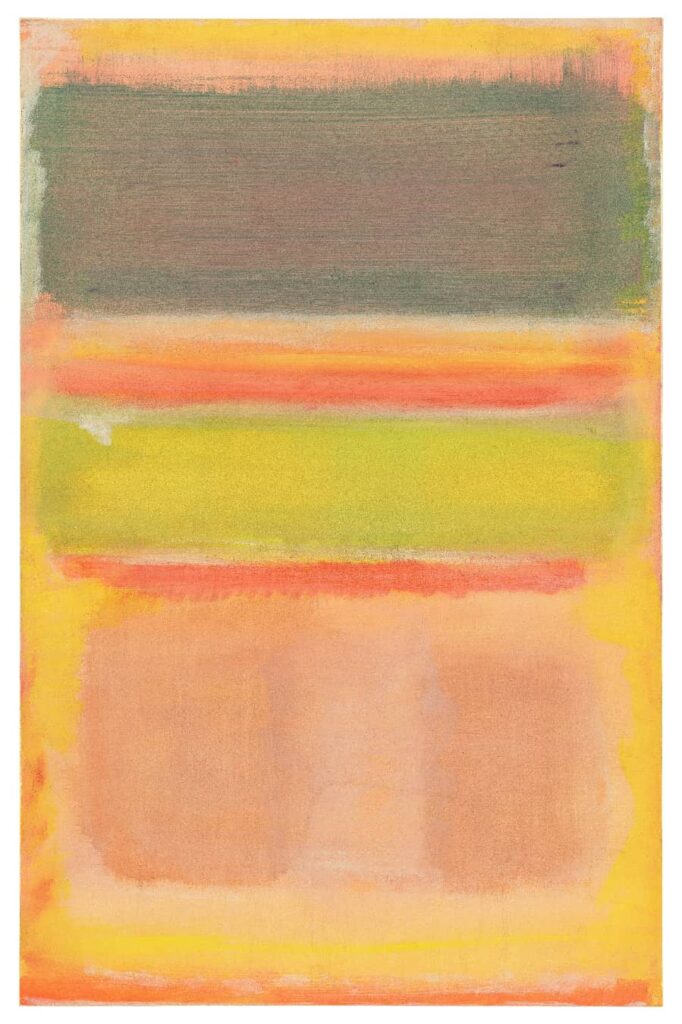 And don't look to his biography for clues: as the curator Adam Greenhalgh — rightly — insists, the art world is too eager to equate the somber hues of Rothko's paintings with the artist's physical and mental tribulations. Indeed, the show at the National Gallery actively undermines this equivalency, featuring paintings on paper in brilliant gold, fuchsia, and vermillion, many of which were made during the years when Rothko's personal crises were most acute.
The logical solution, and the one Rothko would have likely endorsed, is to grab some Kleenex and head to the National Gallery. For the purposes of this review, however, we may need to bend the rules a little.
Markus Rothkowitz was born in 1903 at Dvinsk, now Daugavpils, a town in the Jewish Pale of Settlement; then part of Russia, today in Latvia. A series of pogroms finally convinced his parents to join the 1.5 million Jews who emigrated to America between 1880 and 1914, and the Rothkowitz family settled at Portland, Oregon, in 1913. Unlike others in his family, Rothko opted not to adopt the common last name "Roth" as too overtly Jewish.
Trouble found Rothko young and never quite let him go. He was a pariah during his two unhappy years at Yale, whose dean at the time was an outspoken proponent of banning Jews from the college; he struggled to provide for his family during the Depression; he lived through the collective spiritual crisis brought about by World War II and the Holocaust — for a sensitive and serious artist — and a Jewish one at that — these years were destabilizing and tumultuous.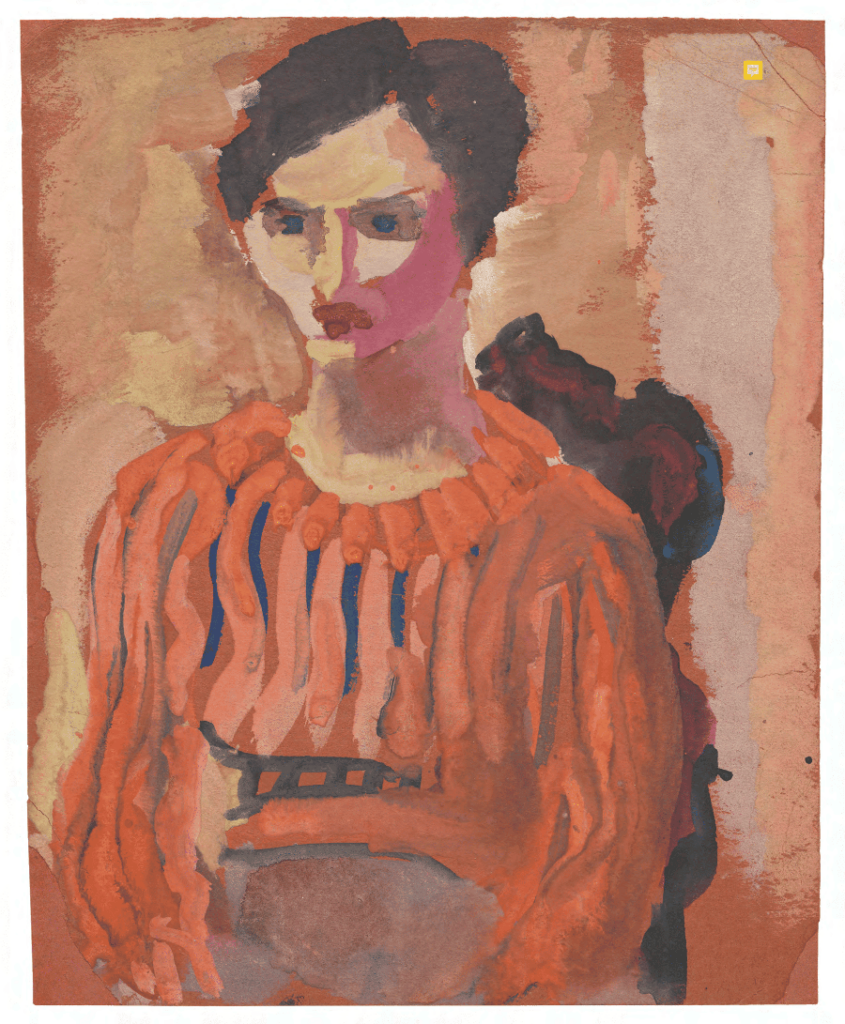 Thus, perhaps unsurprisingly, in Rothko's paintings on paper between 1933 and 1949, we see him struggling to find his artistic footing. The first works in the exhibition are a series of watercolors: landscapes from a cross-country road trip in 1933 that call to mind the works of Paul Cezanne and John Marin; severe portraits painted in unlikely jewel colors; and a small group of eerie yet strangely appealing beach scenes that Rothko made during a vacation at Gloucester, Massachusetts, with Milton Avery, Adolph Gottlieb, and their wives. Avery's influence is visible in these works — and, per the exhibition catalog, Rothko himself is visible in one of Avery's paintings from 1934, wearing white swimming apparel and a green visor.
As the show progresses into the 1940s, we see Rothko's first incursions into the upper echelons of the New York art world. The works from this era, which are Surrealist in character, caught the attention of Peggy Guggenheim, who gave Rothko a solo exhibit at her gallery in 1945. This was followed by exhibits at the Whitney, the Brooklyn Museum, and SFMOMA. Although these paintings of the 1940s produce real emotional effects — foreboding and isolation predominate — they seem preserved in amber: bound within the psychology of the World War II and its immediate aftermath.
By 1949, Rothko's rectangles start to emerge, and, frankly, the works start to breathe. Rothko's subject in the 1940s was, as Mr. Greenhalgh writes in the exhibition catalog, the "essential tragedy of human existence"; it is not until the 1950s, however, that Rothko's tragedies achieve catharsis. And many of these paintings on paper do not touch tragedy at all: I read their moods as alternately joyful, tender, aggressive, yearning — they run the spectrum of human experience and complicate the narrative identifying Rothko's artistic practice as a vehicle for despair.
The remainder of the show, which runs chronologically until Rothko's suicide in 1970, shows Rothko in stride: a virtuoso of hue, gesture, transition, suggestion, and space. The works read as neither organic nor man-made but as a kind of communion. Hung relatively closely — as Rothko preferred — they simultaneously resonate with each other and overwhelm the viewer, an effect similar to that produced by Gregorian chant.
Rothko was notoriously concerned with the relationship between his paintings and their audiences. "A picture lives by companionship, expanding and quickening in the eyes of the sensitive observer," he wrote in 1947. "It dies by the same token. It is therefore a risky and unfeeling act to send it out into the world." These are spiritually generous paintings, sensitively exhibited by the curatorial team. The rest is up to us.