The Inevitable Flop of 'Wonka' and the Death of Hollywood
One suggestion is that Warner Brothers kill the troubled 'Wonka' movie for a tax credit, much as it shocked Hollywood by nixing 'Batgirl.'
From their openings onward, "Barbie" and "Oppenheimer" have broken a virtual smorgasbord of records. It was the first time in history that two movies opened with more than $80 million each. The last time two opened with more than $50 million each was "Monsters University" and "World War Z" in 2013, and with all said and done, the recent openings contributed to the fourth-biggest weekend in cinema history.
In the weeks since, "Oppenheimer" has grossed almost $600 million and is on its way to a long list of Academy Award nominations despite being an R-rated existential-dread drama. Meanwhile, "Barbie" has grossed $1.2 billion globally and is Warner Brothers's highest domestic release ever.
The "Barbenheimer" double-feature meme is not responsible. Rather, these were two stylistic, bold films made by auteurs, given large enough budgets to see out their visions, starring compelling casts. Given their source materials, each seemed doomed for disaster; toy commercials and Oscar-bait biopics rarely prove to be fonts of artistic greatness.
Yet they were brilliant, and audiences rewarded the studios for it. As film critic Owen Gleiberman titled his story on the topic: "If You Build Exciting Movies, They Will Come."
The movies' success has been an elixir for Hollywood, which has been badly in need of a pickup after multiple warnings that audiences are souring on its over-reliance on tired-out "franchises." Would-be blockbusters such as the latest "Mission Impossible," "Indiana Jones and the Dial of Destiny," and "The Flash" were all disappointments, as was the Marvel film "Antman 3," which was dinged for cheap special effects.
And Hollywood may have yet to hit rock bottom with its reliance on worn-out intellectual property and a troubling lack of young stars. The trailer for another much-anticipated film has quietly dropped, setting off alarm bells warning of a bomb: Behold, "Wonka."
The film seeks to milk every last drop of the Charlie and the Chocolate Factory I.P. It stars the young Timothee Chalamet — who's excelled in "Dune," "Call Me By Your Name," "Bones and All," "The French Dispatch," and more. It's directed by Paul King, whose "Paddington" films are not simply the most delightful family films in the past decade, but modern classics of British cinema.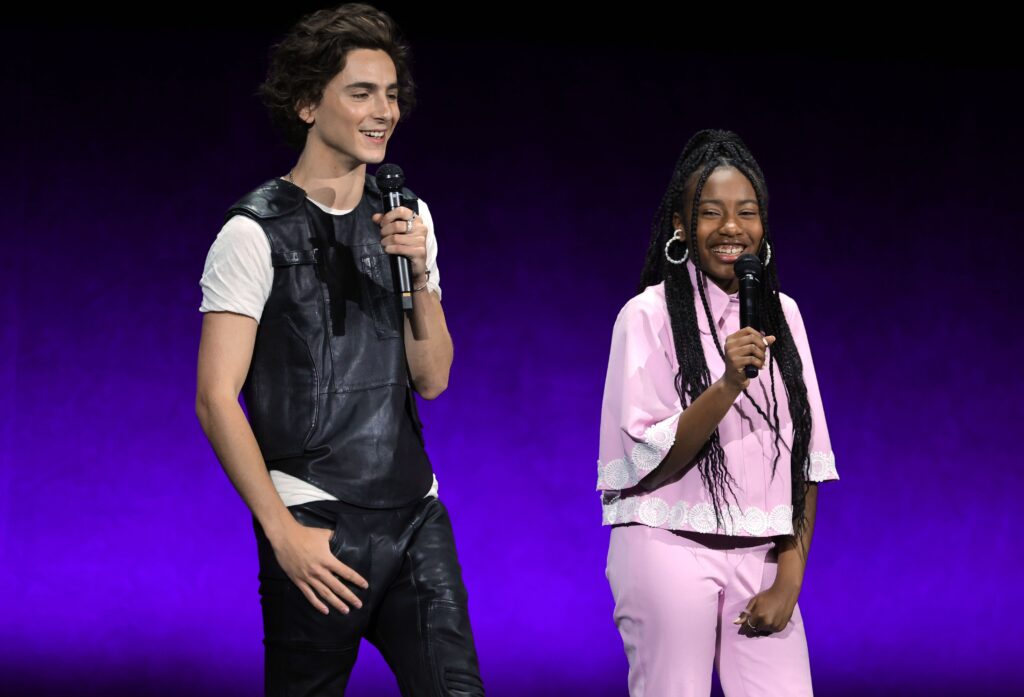 Yet, the cringe-inducing "Wonka" trailer makes the film seem thrown together by a Hollywood out of ideas, grasping at tired I.P. for want of any new content. Watching the trailer, you see little more than a corporate committee's idea of the ultimate holiday season blockbuster, hoping desperately that Roald Dahl's magic will rub off on them. The tone is saccharine and blandly twee; its look is flat, devoid of any style or an artist's fingerprint; and its story seems to faithfully use the "dramatic backstory for a beloved character" formula that ran out of energy years ago.
Originally scheduled to release this March, Warner Brothers pushed the release back until December 15, hoping to reel in cinema-going families in the run-up to Christmas. The thought is that this could be the next version of Hugh Jackson's 2017 P.T. Barnum musical, "The Greatest Showman," whose long cinema run, through the January doldrums, turned it into a hit.
Yet "The Greatest Showman" was beautifully shot, had fantastic music, and starred handsome, talented leads. "Wonka" doesn't have any of that.
To bring audiences to cinemas, films must be an event and have such flair and style that you could not properly watch it on a small screen in your living room or on a phone. "Barbie" meets that criteria, so too does "Oppenheimer." Yet "Wonka" doesn't. And why would families spend the money to watch something dull when Netflix has an endless catalog of great family classics — which they're already paying monthly for?
It should be noted that Netflix recently bought the rights to all of Roald Dahl's work. "Wonka" may be the last of its kind. "Wonka" marks the end of this model just as the beginning of "Batgirl" — which was more valuable as a tax write-off than a release — was a death knell for the corporate superhero film. The talk around Tinsel Town is that Warner Brothers knows that.
An executive at a different studio who requested anonymity tells me that, even if the film dies in cinemas, "they can just quickly dump it onto streaming and get the holiday crowd that way." It may not even be released at Christmas.
A famed Hollywood reporter, Matthew Belloni, noted on his podcast, "The Town," that studios may choose to push back bad movies in order to reshoot them, using strikes as an excuse as "they don't want to release a mediocre, bad movie." Rather than pushing it back to 2024 though, he joked: "I think they should push 'Wonka' to never."