When Little Richard Said 'I Am Everything,' He Changed America
One of the greatest achievements of this film about the groundbreaking performer is its discourse on how gender-nonconforming individuals influenced the most revolutionary musical genre of the 20th century.
Although Little Richard died a few years ago, a new documentary, "Little Richard: I Am Everything," brings his rollicking essence back to rocking life. Employing performance footage, vintage interviews, recreations of key moments, and more, director Lisa Cortés creates a complex portrait of the icon, with all his talent, contradictions, humor, and subversion on view. 
Crucially, analysis by scholars and anecdotes from the likes of Mick Jagger and John Waters provide context on how Little Richard's queerness informed not only his personal style but a whole cultural movement. 
After a brief introduction declaring Little Richard as the progenitor of all things rock and roll, the doc dives into his upbringing at Macon, Georgia, where "Colored Waiting Room" is still chiseled in stone at the local train station. Like many an early rocker, his peak musical harvest had gospel roots, with the literally little Richard (née Richard Penniman) having sung in several churches. His father, though, disapproved of his more feminine demeanor and, later as an adolescent, Richard is thrown out of the house, essentially for being gay. 
One of the documentary's greatest achievements is its discourse on how gender-nonconforming individuals influenced the most revolutionary musical genre of the 20th century. Early rhythm and blues acts like Sister Rosetta Tharp, Billy Wright, and Esquerita displayed renegade notions of comportment and a flair for flamboyance, while also being talented musicians. Each one would have an impact on Little Richard as he developed his charismatic style; he even did drag early in his career. 
After a few years, Little Richard forms a backup band called The Upsetters and records a demo with them in New Orleans. Dissatisfied with the bluesy results, Richard starts playing "Tutti Frutti" on a piano during a lunch break. His producer realizes its potential immediately, though the song's original lyrics were quite salacious.
After the lyrics are cleaned up, "Tutti Frutti" is released and becomes an instant, crossover hit, playing on radio stations catering to white kids as well as Black ones. Ms. Cortés depicts the significance of the song as the big bang of all things rock and pop, with quick flashes of platform heels, red lipstick, unfurling flowers, comets, supernovas, lava-spewing volcanoes, and more. 
As the title of the documentary and this montage suggest, Little Richard is "Everything Everywhere All at Once." It's an ecstatic moment of visual elaboration, showing how Little Richard's life-force interconnected with both the extravagant and the elemental, and sparked the genesis of generational change still being felt today.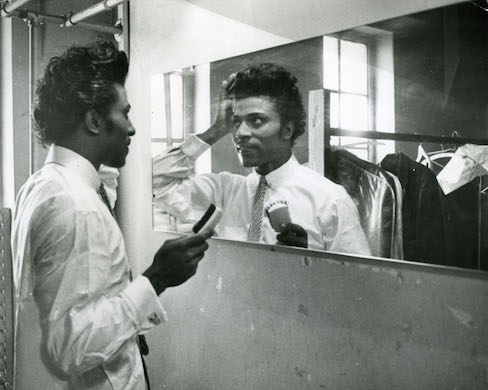 Other hits followed, like "Long Tall Sally" and "Lucille," with the filmmakers establishing how white artists like Elvis and Pat Boone quickly co-opted the sound and covered many of these songs. As a performer, Little Richard broke down many barriers through his integrated concerts, yet ultimately the fear of a young Black man and his band interacting with young white women drove the ascendance of white rock musicians. As the documentary astutely notes, the murder of Emmett Till occurred the same year (1955) as the release of "Tutti Frutti."
Upon seeing a fireball in the sky during a concert at Sydney, which may have been the Sputnik 1 satellite launching into space, Richard experiences a religious epiphany and leaves rock music for a conservative college in Alabama. He not only cuts his hair but cuts gospel records. Before long, though, he returns to performing his more profane songs. On a tour in England, he meets a little-known band called The Beatles. The Rolling Stones open for him in 1963 on one of their first tours.
From this point on, "Little Richard: I Am Everything" gets vague on dates as Richard becomes a legacy artist, mainly playing his old hits and appearing on talk shows in the late 1960s as well as the '70s and '80s. Drugs come into the picture, but the movie is no "Behind the Music" type of documentary, and even the death of one of his brothers, for which Richard blamed himself, is not milked for melodrama. 
Several commentators discuss the icon's raucous/religious duality and his betrayal of the queer community — he claimed later in life that he was no longer gay — as the movie sums up his life. One aspect that could have benefited from more screen time was Richard's attempt to receive rightful royalties from his earliest recordings. This viewer also would have enjoyed seeing a couple complete, unspliced song performances. It seems one must go to YouTube for those.
With the focus on someone so unconventional, though, any documentarian is bound to glance over some events and cut corners. Still, this exuberant doc testifies that Little Richard was more than just the "Architect of Rock and Roll" and a man of God: His legacy is a very human one of staying true to oneself, wop-bop-a-loom-op-a-lop-bom-bom.