Yayoi Kusama on a More Intimate Scale — and at Her Most Whimsically Grand
A mirrored 'infinity room' feels more like an elegant and kaleidoscopic exercise in mid-century modernism and less like an immersive cosmic experience.
Yayoi Kusama: "I Spend Each Day Embracing Flowers"
David Zwirner, 525 West 19th St, New York, NY
May 11 – July 21, 2023 
Known for her fire engine red bob, visionary stare and half kooky, half twee mystical pronouncements, Yayoi Kusama is now the unlikely 92-year-old empress of the contemporary art world. Her 2021 show at the Tate Britain — which has been extended until Spring 2024 — sold out in minutes, and draws thousands to view her sculptural installations, her bright geometric canvases, and her enormously popular "infinity rooms": Mirrored installations with lights that offer long lines of viewers a minute's worth of psychedelic timelessness.  
Ms. Kusama's current show at David Zwirner — "I Spend Each Day Embracing Flowers" — is her sixth collaboration with the gallery. There is only one modest infinity room this time, with the lion's share of the exhibit refreshingly devoted to sculpture and painting, an aspect of her output that deserves more exposure.   
The giant sculptural floral blossoms that greet the viewer are worth the show alone. Painted in searing playground colors, they feel as if they have been proffered to the world as a massive and joyous peace offering. To see them in the opened space with viewers wandering in from the balmy spring day is a spiritually ratifying experience.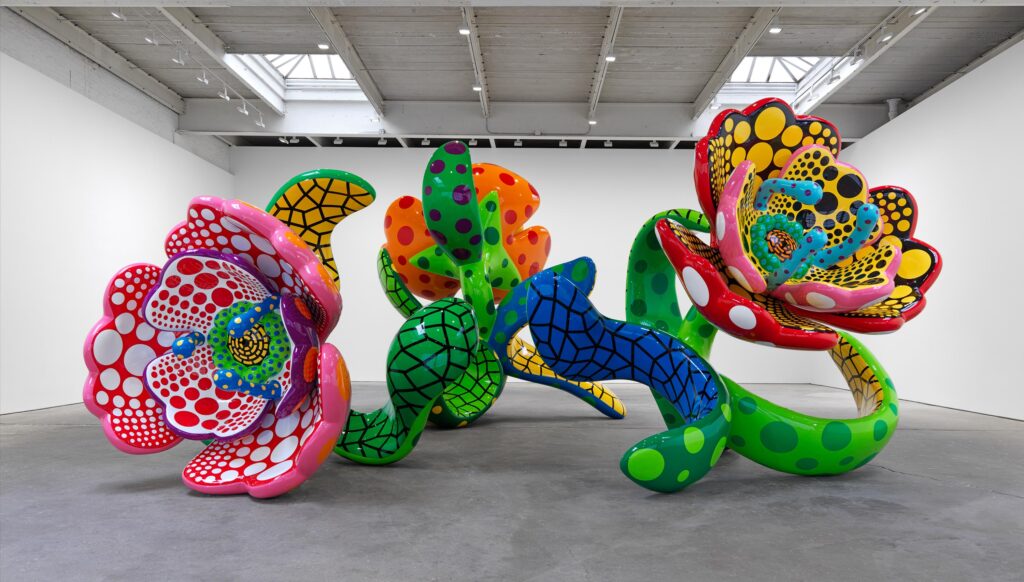 The middle space contains her infinity room within a room, which you enter through a low corner door.  Her signature polka dots have expanded in size in this version, and the mirrored interior feels more like an elegant and kaleidoscopic exercise in mid-century modernism and less like an immersive cosmic experience. 
Thirty six recent paintings occupy a back room. They are smaller than so much of her recent work, offering the viewer a more intimate and painterly Ms. Kusama. She is still obsessed with brightly colored geometric matrixes, but here the work gives us a sense of a human hand painstakingly iterating a long-held vision. It makes the work more touching, somehow. In fact, the only painting in the show with any figuration shows the ghostly outline of a woman's face in tears. 
The final installation in the last room is Ms. Kusama at her most whimsically grand. Elongated yellow gourd forms rise in tall, nested walls, painted with glossy black polka dots. The immersive quality recalls the sculptural installations of Jean Dubuffet, albeit far more colorful, allowing viewers to wander through a labyrinth of undulating form. It's Kusama's painterly vision embodied as a Wonkaesque topiary maze.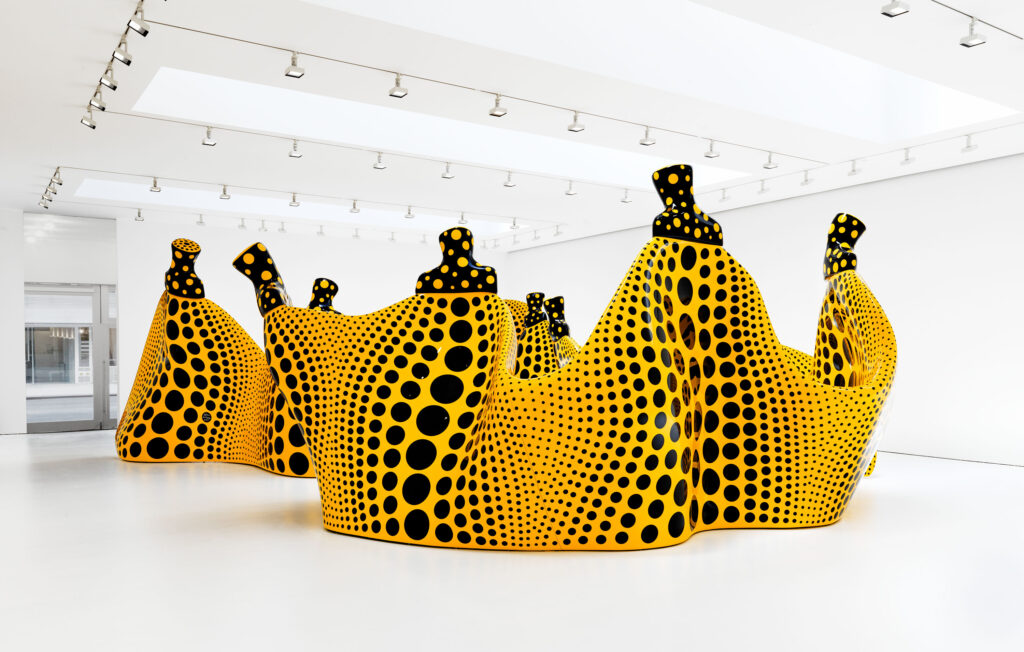 Much has been said about the cosmic positivity that typifies Kusama's work, but her strength is her talent for unease. Compulsion haunts her obsessively patterned canvases, just as the threat of overwhelm underscores her whimsically huge and colorful sculptures. Are her flowers offering themselves like the lovely bouquets of Fantin Latour, or are they about to swallow us whole? Kusama's affirmations carry the shadow of their discontents within them, and that makes them compelling. 
This is the tension that drives Ms. Kusama's work. Ms. Kusama has freely admitted to being plagued by hallucinatory visions since childhood.  Since the seventies she has lived her life between an artist's studio and a residential psychiatric facility in Tokyo. As she said in a recent interview: "I fight pain, anxiety, and fear every day, and the only method I have found that relieves my illness is to keep creating art."
Ms. Kusama's career has been won through persistence. She immigrated to New York despite the opposition of her family, struggling as a Japanese woman artist in the male dominated art world of the sixties. Wildly ambitious, she produced a steady stream of paintings, performances, happenings, films and sculptural installations. The artist Georgia O'Keeffe became her mentor, and she was introduced to Andy Warhol, William de Kooning, and Joseph Cornell, among others. A mental collapse sent her back to Tokyo in the seventies, where she regrouped and continued working from Japan.  
Art has always been Ms. Kusama's means of fighting back. At Zwirner we see Kusama on a more intimate scale, and willing as ever to publicly embrace life, color and form. After our own brushes with darkness after the last three pandemic years, let us salute her bravery.